Be inspired. Be challenged. Be equipped.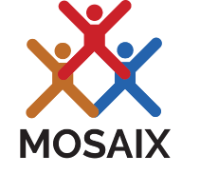 Together in partnership, Wheaton College and the Mosaix Global Network offer an M.A. in Leadership to graduate students seeking to serve, establish or develop healthy multiethnic, biblically just, and financially sustainable churches and organizations for the sake of the gospel in an increasingly diverse society. Through this advanced degree, students receive Christ-centered, academically challenging, and onsite training from credible educators and proven practitioners to equip them for effective local church leadership and redemptive community engagement in the 21st century.

As part of a Mosaix Cohort, (15-22) graduate students receive a significant tuition discount (25%), and journey together as a group for the entire length of the program. The unique degree features both online and onsite instruction; ongoing connection with peers and professors through a dedicated social media account; contextual coaching for those already in ministry, and more.

For more information about Wheaton's M.A. in Leadership offered in partnership with the Mosaix Institute, please contact Suzanne.MacDonald@wheaton.edu
Founded in 2004 the Mosaix Global Network exists to establish healthy multiethnic and economically diverse churches for the sake of the gospel in an increasingly diverse society. Today, Mosaix is recognized throughout North America and around the world for its catalytic leadership in helping to both establish and advance the growing Movement.



Curriculum
The M.A. in Global Leadership consists of courses in three core areas and 10 credits of elective coursework.
Foundation Courses (12 Credits)
LEAD 557 Foundations of Leadership in a Globalized world (4)
LEAD 559 Organizational and Change Management (4)
BITH 565 Christian Theology (4)
Core Courses (10 Credits)
MML 513 Theological Foundation of the missio Dei (4)
MML 503 Cultural Engagement (2)
MML 512 Leadership and Spiritual Formation (4)
Integration Courses (4 Credits)
LEAD 662 Leading Multicultural Teams (2)
LEAD 652 Strategic Management (2)
Electives (elect 10 credits of courses) choose from the following
LEAD 611 Financial & Legal Foundations of Organizations (2)
LEAD 631 Leading Non-Profit Organizations (4)
LEAD 633 Character & Leadership (4)
LEAD 692 Cultural Intelligence for Multiethnic Ministry (2)
LEAD 694 EntrepreneurialMarketing (2)
Scholarship Available!
Competitive, merit-based, full-tuition loan/scholarships available for experienced urban/ethnic ministry workers through the Billy Graham Scholarship Program.
Interested in the Mosaix Institute partnership?
It's time to earn your degree and take your ministry to the next level.