Physics Student's Remote Learning Experiment
Genevieve Nelson Physics '22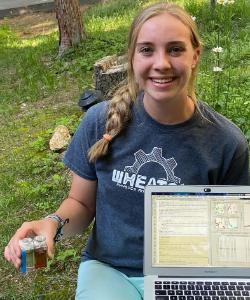 The switch to remote learning during the spring had a significant impact on several of my courses, heavily affecting my laboratory-based experimental physics course in particular. Our original plan was to use the advanced optics lab to setup an experiment to test local realism using lasers and other components that felt exciting and new. I was greatly looking forward to the opportunity to have a seven-week, hands-on project that would give me the opportunity to see physics at work in the real world, to see and experience the phenomena I had learned about in my textbooks.
After only two sessions at work on this final project, I received the news that the remainder of the semester would take place remotely and my courses would have to be completed online. While it was a major disappointment to shift from our original research project plans, my class and professor soon set to work imagining a new project that we could complete remotely which would still involve experimentation and analysis at a college level. We decided on exploring the process of diffusion by examining the diffusion of corn syrup and water. At first glance, this project appeared decidedly less glamorous than using lasers. However, after the first round of experimentation, I found this project to be engaging, challenging, and interesting in ways I had not expected.
Conducting experimental physics at home presented a whole new set of challenges: finding an undisturbed space within my home where I could leave a delicate liquid experiment for several days, taking pictures to collect data using a cell phone, and making-do with the components I had on hand in my home and community. Despite these challenges, my family and the surrounding community provided important support, resources, and encouragement along the way. My brother was able to allow me to borrow a blacklight from his workplace to better measure the diffusion of light corn syrup, which fluoresces under UV light. My dad, a water and wastewater treatment plant manager, allowed me to borrow containers from his lab that helped to mitigate the reflections in my photos. Finally, my loving family allowed me to take over the main hallway (the only location in our home without windows) for an entire week in order to collect the data I needed without other sources of ambient light.
Although it may have been less glamorous than the original plan, our corn syrup diffusion experiment allowed me to experience hands-on experimentation and take part in significant programming work which our original project did not offer. Using the skills I had learned in my MATLAB course in the fall, I was able to write a program and several functions that uploaded, analyzed, and graphed my data and results, with the main script totaling 455 lines of code! On the last day of class, my classmates and I (all four of us) met on zoom and presented our findings to one another and our professor, Dr. Craig. It was really satisfying to have been able to complete a college-level experimental project even without all of the normal resources of a laboratory and from over 1,500 miles from Wheaton.
While I look forward to the opportunity to return to Wheaton's labs soon, I am confident that the Lord used the time and effort exerted during the past spring semester for His glory and His kingdom, even if it did not play out exactly as I had anticipated. He provided for all my needs, academic, emotional and spiritual, and even for the needs of my experimental project.
Through this experience, I was able to sharpen my programming skills in ways I would not have been able to otherwise and to incorporate my family and my community into my college experience. I have been learning that although I may be disappointed or feel like I am missing out on certain experiences in this COVID season, the plans of the Lord are yet unchanged; this is what He has prepared before me, and in His sight it is not lesser than the plan I originally expected. His work and will are still accomplished in and through my life, whether it be through the use of lasers or of corn syrup.