The Health Professions office sponsors exploration trips over spring break. In March 2023, the Wichita Spring Break trip was a wonderful opportunity for in-person observation of healthcare professionals. In addition to observation, we visited Clinic in a Can. The organization creates portable solar-powered clinics for global health and disaster relief. The group enjoyed homemade pizza at the warehouse and a tour afterwards.
Students met and shared meals with some alumni as well. Dr. Jim Logan '87, Dr. Sam Amstutz '76 and Dr. Dee Ann Bragg '03 helped to coordinate many opportunities. In addition to observing interactions in surgery, clinic and hospital environments students spoke with physicians and nurse practitioners with varying years of experience, including those in residency. We heard from the leadership team of GraceMed as well, about the various ways they seek to provide healthcare services to those in their community. Look for information about this trip next fall.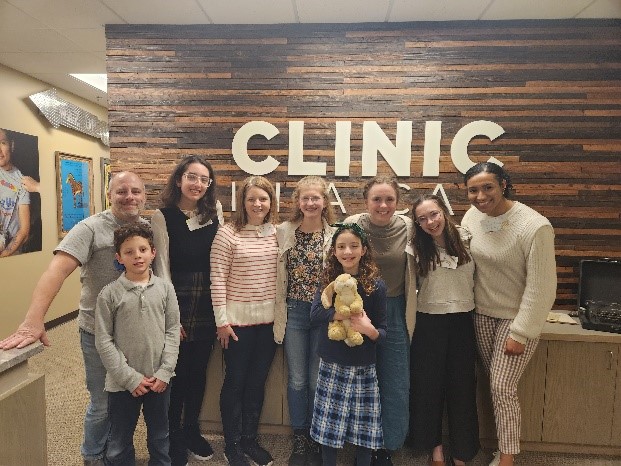 Pictured front: Sebastian & Isabella
Pictured back (left to right): Michael Wawrzewski (CEO, Founder of Clinic in a Can), Fernanda Lopes, Candice Eisenhauer, Louisa Brorson, Anna Campbell, Lucy Browning, Naomi Bunker
Photo credit: Elizabeth Wawrzewski, DDS
Spring Break - Baltimore/Washington DC
Another spring break opportunity that the Health Professions office sponsored was to the Baltimore/Washington DC area. The trip focused on learning more about healthcare issues within an urban environment, specifically underserved and under-resourced areas; explores health disparities and observed how followers of Jesus are making a difference in their communities.
During the week the students learned from and interacted with individuals within the following departments and organizations:
Johns Hopkins University
Radiology
Center for Human Nutrition (International Health, Maternal, Newborn, & Child Health)
Critical Care Medicine
Infectious Disease
Internal Medicine
Nursing
McCarrick Center Medical Clinic, one of two community health centers managed by Catholic Charities of DC, the largest social services provider in the DC area. The clinic provides primary care and preventive care services to uninsured individuals, mostly immigrants. They serve patients from more than 50 countries; the vast majority are Spanish speaking.
National Institute of Health
Ronald McDonald House, volunteering to serve the families with children suffering from difficult illnesses.
Visits to the National Museum of Health and Medicine and National Institute of Health Museum.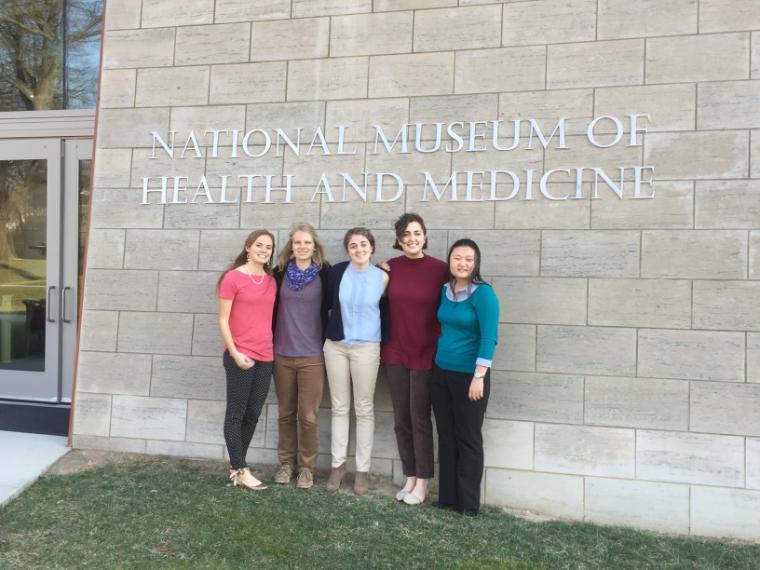 National Museum of Health and Medicine: (L to R) Megan Bailey '19 (AHS), Emily Blom '18 (Spanish), Christine Schlais '18 (Biology, Spanish), Chloe Burris '18 (Anthropology), and Sara Kim '18 (Chemistry)