Undoubtedly, what I love most about teaching is the students. — Sarah Davis '16, Freshmen Biology Teacher at Glenbrook South High School, Biology Secondary Education
Stephen Fernandes '15
Biology Secondary Education
8th grade Science Teacher and Head Varsity Soccer Coach at Timothy Christian School
What was the best part of the Wheaton Science Education Program?
"The Wheaton Education professors really want you to succeed. I transferred in from another college, and was playing varsity soccer. These professors really care about you. You can see their knowledge and it makes you want to learn more from them."
What excites you the most about being a science teacher?
"I am the most excited about having my own classroom and forming relationships with my students. I can't wait. It is going to be so fun to teach them science."
Any advice for incoming and younger students?
"Map out your four-year plan of courses. I didn't do this at first and honestly thought it was a huge pain. But honestly, it was the biggest help ever, especially because I was playing a sport. It makes things so much easier. Relax. Have fun. You can do this. You are going to be prepared to be a great teacher by the end."
Sarah Davis '16
Biology Secondary Education
Freshmen Biology Teacher at Glenbrook South High School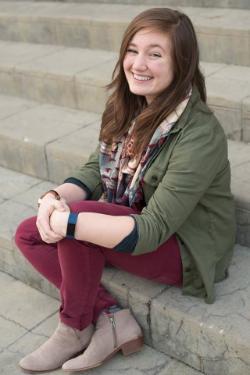 What was the best part of the Wheaton Science Ed program?
Overall, I found the program to be exceptionally good at preparing me and others for our teaching careers. The courses were relevant, useful, and I believe that they taught me the skills I needed to be successful after leaving Wheaton College. I enjoyed the small class sizes which gave the program a more personal feel. Not only that, but the professors who taught the education classes are phenomenal teachers, mentors, and lifelong learners. Knowing that they were striving to put into practice what they were trying to teach us gave the program a genuine feel.
What excites you most about being a science teacher?
Undoubtedly, what I love most about teaching is the students. As I'm going through the early stages of my career, I'm learning that being a teacher requires an enormous about of time and moxie. There are times when it feels like it might be too much. Whenever I get to that point, I can always find the hope I need by looking to my students. We all remember the teachers that shaped us, pushed us to better ourselves, and believed in us when we didn't have belief in ourselves. Teachers sow the seeds, but they may never see the harvest and yet, I firmly believe that what I do in my classroom could be shaping their future and pushing them towards their calling in life and that is about the most exciting thing I could ever hope for.
What advice do you have for incoming and younger students?
Never stop learning. Good teachers are always looking for ways to improve and the best teachers understand that everyone has something to teach you. This means staying humble and learning from those who came before you and who are walking the path besides you. Learn from your mistakes, there will be plenty. But also learn from your good days, there will be plenty of those too. The highest compliment a student has ever said to me was, "Miss Davis never stops learning even though she's the teacher."