Rose Wang, M.A.
Associate Lecturer of Mandarin Chinese
Various titles.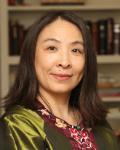 In October 2018, I received a Teaching Improvement and Innovation Grant for the purpose of creating a Chinese language textbook to fill a gaping void in language education: materials for studying the Chinese language through reading the Bible! I have put my heart and mind into this project, which contains fundamental Biblical truth and devotional encouragement connected to language learning. Scripture verses and information about Christianity are embedded in the material to demonstrate the value of Christian liberal arts education, in the hope of forging a passion for both the Chinese language and the Living God.
To this end, I read C. H. Kang and Ethel R. Nelson's The Discovery of Genesis: How the Truths of Genesis Were Found Hidden in the Chinese Language; Elyn MacInnis's Character Reflections: Contemplating the Spiritual Wisdom in Chinese Characters; and Chan Kei Thong's Finding God in Ancient China (previously published as Faith of Our Fathers). Kang and Nelson describe Chinese characters that "tell the stories found in the early chapters of Genesis." MacInnis reflects on the roots of thirty Chinese characters, revealing spiritual wisdom in them. Thong sees Chinese faith as reaching to the very origins of Chinese language, noting profound similarities with the Bible on the main ideas of God, sacrifice, the meaning of blood, etc. If you are looking for something to stimulate your mind or enrich your understanding of the Chinese world, any of these three books will be a good place to begin.
Visit the Chinese Language and Culture Program
Harmony Zimmerman
Student president of the Chinese Language and Culture Club
Faith of Our Fathers, by Chan Kei Thong. 2009.
Faith of Our Fathers by Chan Kei Thong is meant to combat a Chinese misconception that Christianity is only a western religion. Thong discovers that although the Chinese were not God's Chosen People, it is evident through their language and ancient practices that He had a nation-wide relationship with China—formerly named Shenzhou, or "God's Country."
Thong gives various examples of this. The pictographic nature of Chinese characters, for instance, preserves the stories behind their creation (e.g., the combination of "vessel," "eight," and "people" form the character "big boat"; putting "lamb" over "me" forms "righteousness.") Furthermore, he points out in China's dynastic system that some of the most prosperous emperors strove to be upright and humble before God, mediators between Him and the people. Paralleling Levitical sacrifices, the ancient Chinese annually sacrificed a perfect bull to the Sovereign above all who is not represented by any idols at Temple of Heaven, an ancient structure still standing in Beijing. The ancient Chinese even practiced the crux of Christianity: blame must be placed on an Innocent One to be made right. May many more return to the faith of their fathers!