It's about staying in CONTACT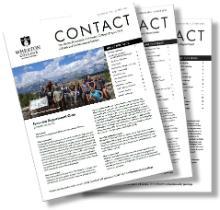 "When I consider Your heavens, the work of Your fingers, The moon and the stars, which You have ordained; What is man that You take thought of him, And the son of man that You care for him?" Psalm 8:3-4
The CONTACT newsletter is published annually and our goal is to stay connected with our alums and former students. We feature stories from faculty, staff and students, news of interest, lists of publications and other information about what is happening in the department and in the field.
2023 Edition Highlights
Doc Mo's Memoirs
New Displays in the Meyer Science Exhibit Hall
Japan Public Television Features Famous Fulgurite
...and many other articles and features!
CONTACT Newsletter Archives
2017 Edition (unavailable)