Why Study English?
As an English major you'll learn to read closely, to think critically, and to write clearly, creatively, and compellingly. The Wheaton College English department's goal is that graduates will enjoy good literature and learn to write clear, coherent prose. You'll study major English and American authors, together with pertinent continental and non-Western ones, and gain a comprehension of the various critical approaches essential to a mature understanding and evaluation of literary achievement. You'll be equipped to situate works of literature in culture and history, to articulate how those works enter into conversation with one another, and to undertake meaningful research projects. Together we'll strive to discover the relation of literature to the history of Christian thought and biblical truth.
3
areas of concentration - literature, writing, and teaching
Beauty in the Ordinary
Mattea Gernentz '20 draws from a storehouse of literature, history, and her own personal memories to inspire those around her to find meaning beyond what first meets the eye.
Welcome to the Martins!
We are pleased to welcome Thomas and Dyanne Martin to the English department and Wheaton College.
Tribute to Dr. Beatrice Batson
Honoring the life of one of the most distinguished and celebrated professors in the history of the English department, and perhaps the College.
Why Study English at Wheaton?
Learn how to write more creatively in a supportive critique setting. Showing your work to others may be unnerving at first but it's a crucial step to start looking at writing with a more critical eye. Through peer review, we work to build a strong academic community among faculty and students alike.
You'll develop as a critical thinker during your time at Wheaton, engaging the enduring questions of literature. It's not about how to read this particular text in this particular way, but about how to analyze the entire corpus of literature.
Our award-winning faculty love teaching and enjoy engaging with students both in and out of the classroom. They actively research and publish in their fields in ways that directly feed back into their teaching.
Student Publications
Wheaton houses a variety of student-run publications, including a weekly newspaper and a literary magazine whose editors are chosen from among the student body and receive stipends for their work. The literary magazine, Kodon, regularly welcomes submissions of original work in poetry, fiction, and art.
Internships
Internships provide a wonderful opportunity for students to earn college credit and explore career options while still at Wheaton. Students have completed recent internships in law, book publishing, magazines, politics, business management, and banking.
Teaching Assistant Positions
Teaching Assistants are paid positions within the department which provide an opportunity for English majors to assist a professor. Work may include preparing course materials, doing objective grading, or helping a professor with research or manuscript preparation.
Honors Thesis
The Honors Program at Wheaton provides an opportunity for in-depth work, culminating in an honors paper, which is defended orally before a faculty committee. Students who complete this program successfully receive the designation of department honors on their transcript.
Writing Contests
Three college-sponsored writing contests are open to enrolled undergraduate students: the Lowell-Grabill Creative Writing Contest with prizes in fiction, poetry, and creative non-fiction; the James G. Jameson Critical Essay Contest; and the First-Year Writing contests for outstanding writing in ENGW 103/104 classes.
Study Abroad in England
Writing Center is an opportunity to study English literature and writing while immersed in traveling throughout England. The program emphasizes both study and travel, offering a two-month program and up to ten credits with stays in London, Oxford, and the Lake District.
Sigma Tau Delta
The International English Honor Society known as Sigma Tau Delta has a local chapter at Wheaton, conferring distinction on members and promoting all aspects of the study of English. The organization maintains high standards for academic excellence and exemplary character traits as requirements for membership.
Writing Center
The Wheaton in England collaborates with students across the disciplines to instill the habits, skills, and commitment conducive to effective writing. English majors can apply to work on the staff, which constitutes paid employment and a great resume builder.
What Will I Learn?
The English major with Literature concentration includes a solid overview of classical, British, and American literature and allows you choices within a range of categories from period courses, figure courses, and special topics. All students take a senior seminar, which focuses on the interrelationship of literature and theory from a Christian perspective.
The English major with Writing concentration option includes 24 hours in literature and a focused 16 hours in upper division writing courses, including options in creative writing, creative non-fiction, poetry, fiction, plus a range of varied courses under the special topics heading.
The English major with Teaching concentration provides a clearly articulated curriculum leading to state certification in teaching English. Students take a specialized set of courses in both English and education. As a part of the program, students enroll in courses in English teaching methods and in the methods and pedagogy of teaching writing. All candidates for this program spend time in the schools observing, doing methods practicum, and student teaching.
Provides an opportunity for in-depth work, culminating in an honors paper, which is defended orally before a faculty committee. Students who complete this program successfully receive the designation of department honors on their transcript.
Consult the course catalog for full listing of current courses available in this field.
English News and Stories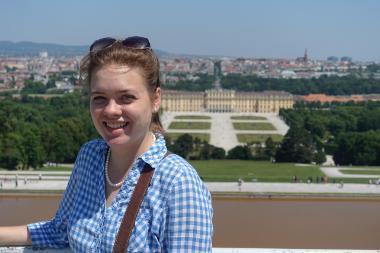 <<
<
1
2