After you explore the Museum Gallery, move into the exhibits for a moving journey through the history of evangelicalism in North America and an unforgettable presentation of the gospel message.
Rotunda of Witnesses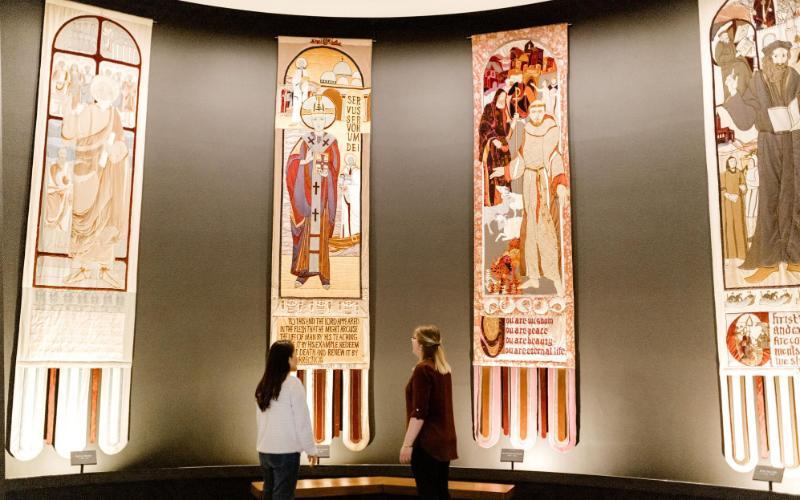 As you journey from the Gallery through the Museum, your first stop will be in the Rotunda of Witnesses, which houses nine stunning tapestries depicting great witnesses for the Gospel.
History of Evangelism in North America
Exiting the Rotunda, guests proceed to the History of Evangelism in North America section, where they will encounter a rich array of historical images and artifacts that the museum has collected over four decades.
Life and Ministry of Billy Graham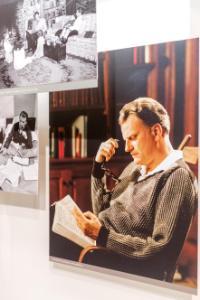 Visitors now experience a beautiful transition from the history of evangelism to the history of Billy Graham, himself. The Life and Ministry of Billy Graham section presents everything from his early life and education to his ministry and worldwide impact. This exhibit includes videos, texts, and exquisite gifts from various world leaders and influencers.
Exiting the section about Billy Graham's life and ministry, guests encounter a powerful depiction of the needs of our world and will be challenged to personal evangelism. A final theater in this section presents a movie video showing the highlights of crusades from around the world.
Walk Through the Gospel
After watching the video in the theater, guests encounter one of the loveliest and most fascinating presentations of the birth, the death, and the resurrection of Jesus in the Walk Through the Gospel section. This final path through the Museum guides guests through the Gospel with a stirring three-dimensional presentation of the Christian message.

It begins with a beautiful representation of Jan Styka's monumental painting of the crucifixion. In this work, Styka sought to portray the crucifixion as accurately as possible. He does so in stunning detail. The original painting, which measures forty-five feet high and 195 feet wide, is on display at Forest Lawn Memorial Park in Glendale, California. This display is followed by a walk through the cross and ends in a room that breathtakingly depicts the resurrection.

Plan Your Visit