From the President

Dear Parents,
It was wonderful to see so many of you on campus for Family Weekend. For parents who were not able to join us: you were in our hearts and prayers. The autumn weekend was highlighted by a thrilling Talent Show, exciting Symphony Orchestra concert, a CCIW conference title for women's soccer, and a big win for the football team against Illinois Wesleyan.
Last month we named our new Welcome Center for the late Dr. Melvin E. Banks, Sr., a Wheaton graduate (BA '58, MA '60, LLD '93) and Trustee Emeritus. In his boyhood, Melvin heard a preacher quote Hosea 6:4, "My people are destroyed for lack of knowledge," and this fueled a lifelong dream to share biblical literature with people of color everywhere.
Starting from the basement of their home, Melvin and his wife Olive persevered for over 50 years to help build the largest independent African American owned and operated Christian media company, touching millions around the globe. Dr. Banks represents what we hope your student will become: a faithful, lifelong servant of Jesus Christ. Thank you for joining us in praying towards that goal.
In Christ's service,


Philip Ryken
President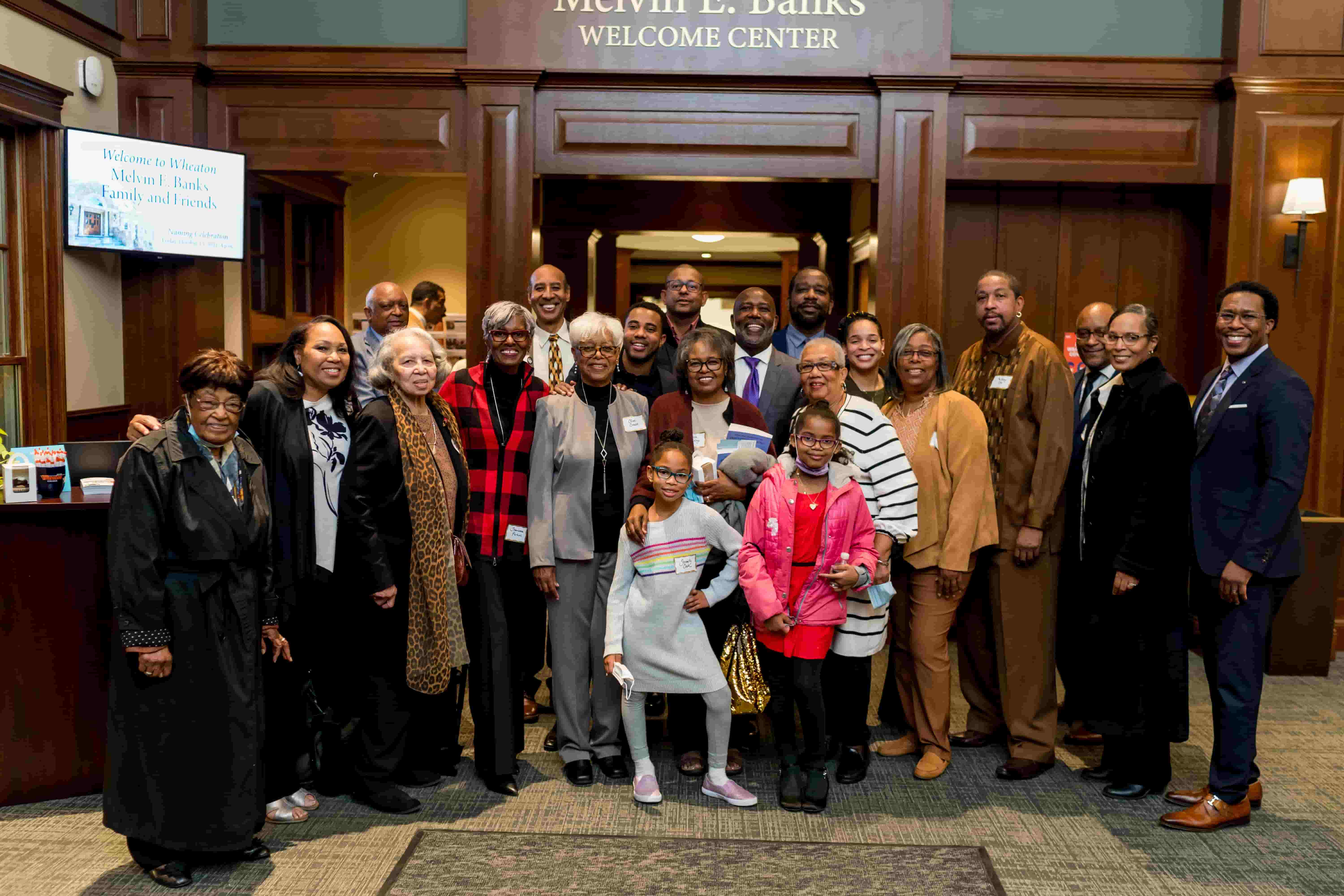 Mrs. Olive Perkins Banks with the extended family of the late Trustee Emeritus Melvin Banks at the naming of the Welcome Center on Friday, October 15, 2021.
Externship Day for All Students
On Tuesday, February 1, 2022, students can spend the day shadowing alumni in a wide range of careers across the Chicagoland area. Sponsored by the Center for Vocation and Career and the Alumni Engagement team, Externship Day is an opportunity for your student to explore possibilities and consider how their skills and interests might align with a particular career. If their "preferred" person or organization isn't local, we will help students connect virtually with alumni around the world! We make all the arrangements, including providing a thank-you gift for alumni -- students just need to apply.
Applications for Externship Day are open and students have received numerous emails about how to get started. Be sure to encourage your student to sign up!
Registration for Spring 2022
Students begin registering for spring semester classes mid-November and can make adjustments, if necessary, through the 2nd week of classes in January. Encourage your student to prepare for meeting with their faculty advisor by reviewing the course schedule and looking at Degree Works, our degree audit software. Students should arrive to faculty advisor meetings with specific questions and a tentative plan for classes they'd like to register for. Students who have multiple majors, have not decided on an academic path, or have some GPA repair to do, may wish to meet with a member of the Academic Advising Office. All students, regardless of academic plans or progress toward degree are welcome to meet with the Academic Advising Office and can make an appointment using this link.
Final Exams and Academic Support
As students look forward to end of term assignments and final exams, we'd like to remind you of the academic resources available to all students:
Learning & Accessibility Services (LAS) is available to provide general academic support to all students. Students can reach out and schedule an appointment for study strategies, time management skills, and academic accountability. LAS also coordinates accommodations for students with temporary or permanent disabilities, including mental health conditions, to enable equal access to academic programs and campus life.
The Writing Center is here to help students with papers at any stage from pre-writing to final editing. Appointments are 30 minutes long and available to all students. The Writing Center website also has links to resources to help students be better writers.
Wheaton College's Buswell Library has multiple services available to students including subject librarians, research guides, and searchable databases.
Graduation
Students who plan to graduate in December 2021, May 2022, August 2022, or December 2022 should apply to graduate now! This application serves multiple purposes:
Alerts the Academic Advising Office (AAO) of degree completion. The AAO team then audits the student's record and reaches out to students who may need to adjust registration. We suggest students apply 2 semesters before graduation so we can be sure fall only or spring only classes are taken in the correct semester and pre-requisites are met for the final semester.
Allows students to determine how they would like their name to appear on their diploma.
Confirms plans to participate in the May ceremony including the information needed to secure the right size gown for the ceremony and information that goes into the Commencement program.
Allows the student to communicate additional coursework planned outside of Wheaton such as transfer credit or study abroad credit.
Students should reach out to the Academic Advising Office at academic.advising@wheaton.edu if they have questions.
Equity & Title IX Office
The goal of campus life at Wheaton College is to live, work, serve and worship together to build the church and benefit society worldwide and the Equity & Title IX team desires to serve Jesus Christ as Savior and live according to Biblical standards. Recognizing that we live in a fallen and sinful world, the Equity & Title IX Office exists to ensure that all Wheaton College students, faculty, and staff have equal access to education as well as activities that are free from unlawful discrimination, harassment, and sexual misconduct that is prohibited in the Wheaton College Nondiscrimination Policy. This policy has been developed to honor biblical principles, comply with federal and state law, and follow best practices for campus safety. For additional information and to review the complete policy, please visit our website at www.wheaton.edu/titleixandequity.com. Click this video link to meet Beth Maas, Director of Equity and Title IX.
The Equity and Title IX team works in difficult situations where harm has been experienced, which results in many emotions. With a posture of empathy and compassion, they commit to pray for all parties involved and seek accountability and resolutions with a desired goal of healing and when appropriate, restoration. In the process, they offer supportive measures and education to empower participants. Their prayer and refrain for the 2021-2022 academic year is found in Psalm 133:1. "How good and pleasant it is when brothers and sisters live together in harmony."
Campus Housing During Holiday Breaks
Thanksgiving Housing: College housing and meal service remain open throughout the Thanksgiving holiday weekend.

Christmas Housing: College housing closes at noon on Friday, December 17 and reopens at 3pm on Saturday, January 8. The regular meal plan ends with dinner on Thursday, December 16 and resumes with dinner on Saturday, January 8.
During Christmas Break the residence halls (Fischer, Smith-Traber and Upperclass Halls) are closed and no student is allowed to stay there for any reason.
Even though housing shuts down for Christmas break, we have students who need to stay on campus. With permission through the Residence Life Office, students may stay as guests in a campus apartment or house during Christmas Break for the following reasons:
- athletics
- students who live internationally
- campus employment
- class participation

Information on the approval process, deadlines and fees may be found on our website. As you plan future arrival and departure dates, please reference our housing calendar.

Year of the Arts, Faith, and Imagination
In September, we launched the Year of the Arts, Faith, and Imagination, a year-long celebration comprised of over 100 in-person and virtual events across all academic areas of the College.
The next big event hosted by the Conservatory of Music will be the Wheaton College Christmas Festival, Welcome All Wonders. The concert will tell the Nativity story through imagery from The Saint John's Bible, traditional Christmas carols, and the inspired compositions of J.A.C. Redford. Performers include the Women's Chorale, Men's Glee Club, Concert Choir, Symphony Orchestra, the Percussion Ensemble, and special guest artists Denise Gamez, mezzo-soprano and Soh-Hyun Altino, violin. We look forward to inviting audiences back to campus as well as making the performances available via livestream. Learn more at wheaton.edu/christmastickets.
We are also excited to announce that the 2019 Christmas Festival, Through His Own Redeeming Love will air on national television across the country starting in December. Learn more at wheaton.edu/christmasbroadcast.
OFFICE OF MINISTRY AND EVANGELISM
Fruit Baskets for Finals Week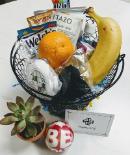 Send your student a Finals Fruit Basket to encourage them during finals week! The Fruit Basket will include small gifts, snacks, fruit, and a personal note from you. This fundraising initiative supports our programs on campus, locally, in the US, and around the world. While we do not require a specific $ amount for the Fruit Basket, we ask that you prayerfully consider a donation. Place your Finals Fruit Basket order here.
Upcoming Short-Term Ministry Trips
The Office of Ministry and Evangelism sponsors short-term ministry trips that partner with organizations and communities around the U.S. and the world. Sign-ups for ministry trips began in late October for next spring break and summer. Encourage your students to participate in these immersive, cross-cultural experiences with their peers. Some of our anticipated locations include Mexico City, Ecuador, Thailand, New Hampshire, Arizona, and more! Check out our website for more information.

How to Pray for Wheaton in November
Pray that the Lord will guide seniors who are weighing post-graduate employment and/or additional schooling options.
Pray for students and their Thanksgiving plans, whether they are travelling or staying on campus, that this would be a time of rest and refreshment before the end of the semester.
Pray that evangelistic efforts by student-led organizations, where the gospel of our Lord Jesus Christ is being proclaimed, are fruitful.
Pray for the physical, spiritual, and emotional strength for administrators, faculty, and staff as they continue to press into fall semester responsibilities and commitments.
With thanks for your involvement and prayers,
The Wheaton College Parent Engagement Team