From the President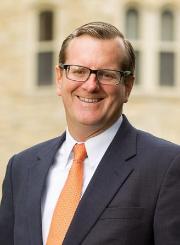 Dear Parents,
Next week students will finish in-person learning on campus for the semester and return home for Thanksgiving Break. A remote conclusion to the semester will follow beginning November 30, with coursework for two weeks and then a week of final exams.
By God's grace and with fantastic cooperation from students, faculty, and staff, we have stayed COVID-Safe and Thunder-Strong this semester. This has been undeniably challenging for many, as it was for Freshman Julia Margason, who shared her moving personal story in Chapel on October 30.
We hope your student will return home with a testimony of God's faithfulness this semester. Compliance with public health standards in a global pandemic has limited close companionship with teammates and classmates. My own Wheaton students are looking forward to getting back home for an extended holiday break—a time of refuge and renewal.
As updated information is available for the Spring Semester—to begin on January 20—we will be in touch with you and your student to cast a vision for the rest of our school year together.
With thanksgiving,


Philip Ryken
President
Focus on Thankfulness
Parent Engagement is offering two ways for parents to engage in the act of giving thanks during the month of November. There is much to be thankful for!
Earlier in the month, parents were invited to participate in the first-ever Thanks and Encouragement Project. If you missed the opportunity, it's not too late! Take a few minutes today to write a note (email or handwritten) to two categories of people:
First, to your student encouraging them to stay strong in the Lord and in their course work as the fall semester presses on.
Second, to a faculty member, staff member, or administrator thanking them for their efforts this fall. If you don't know someone specifically, you can write a general note and send it to parents@wheaton.edu and we'll make sure it gets into the hands of someone who will be blessed by it.
The second opportunity is to participate in the last Parent Prayer Gathering of the fall semester. It will occur on Tuesday, November 17 from 7 – 8 p.m. in all U.S. time zones. In addition to praying with fellow parents, you will be blessed by a special greeting and devotional message presented by President Philip Ryken '88 and Lisa Maxwell Ryken '88. Registration closes on Sunday, November 15 at midnight. [Register now.]
Academic Advising
As students head home for Thanksgiving and pivot to remote learning, please review the Dual Modality Learning guidance provided by the Academic Advising and Learning & Accessibility Services staff. Students are expected to complete the semester by attending all their classes synchronously at the scheduled day and time for each course. Students living internationally may attend a course asynchronously only if the course takes place outside the hours of 7:30 am – 10 pm local time. International students should notify the faculty for any affected courses to discuss their asynchronous status. For the full policy for class attendance during remote learning, please see the Covid-19 FAQ for Students and Families.
News from Student Health Services
It's not too late to get a flu vaccine! Your student may call SHS at 630-752-5072 to schedule an appointment. The cost is $30 and it will be billed directly to your student's account. This year, preventing flu is especially important, as the symptoms are the same as COVID-19, requiring potentially unnecessary isolation and quarantine.
Some students are inquiring about obtaining a COVID-19 test prior to leaving campus. SHS is able to administer a COVID-19 test, by appointment, for a cost of $115 billed to the student's account. It is recommend that students schedule an appointment for a test no later than Wednesday, November 18, if a test result is desired by Friday, November 20.
Campus Housing
Thank you for trusting your student to us. Living in community is important now more than ever and we hope your student got a taste of that despite the masks and social distancing. Housing closes for the fall 2020 semester at 5 p.m. on Saturday, November 21. Students not approved for a late departure or who have not been approved to remain on campus for the remote learning session, must be moved out by 5 p.m. on November 21. If a student is unable to leave by the appointed deadlines, they need to request a later departure.
Your student should pack up everything they will need during winter break until they return in January. Students will not be allowed to return to their rooms to collect items they have left behind (i.e. shoes, tooth brush, video game), unless it is an emergency (i.e. passport, medicine).
Remote Learning Session (November 21-December 18): College housing and meal service operations will remain open for students approved through the Residence Life office. There is a housing and meal plan cost associated to staying on campus.

Christmas Housing: College housing closes at noon on Friday, December 18 and reopens at noon on Sunday, January 17. Spring meal plans will resume with dinner on Sunday, January 17.
During Christmas Break the residence halls (Fischer, Smith-Traber and Upperclass Halls) are closed.
Even though housing shuts down for Christmas break, we recognize that some students need to stay on campus. With permission through the Residence Life office, students may stay as guests in a campus apartment or house during Christmas Break for the following reasons:
Athletics
Students who live internationally
Campus employment
Class participation
Information on the approval process, deadlines and fees may be found on our website. As you plan future arrival and departure dates, please reference the Housing Calendar.

Alumni Association Student Scholarships
Every year, the Alumni Association Board of Directors awards merit scholarships to a select number of juniors for their senior year. Applicants will be chosen on the basis of campus and community involvement, academic interests and achievements, future plans and goals, spiritual growth and insights, faculty/administration recommendation, and cumulative GPA. Student applications are available online and completed applications must be returned to the Alumni and Parent Engagement office by Friday, December 11, 2020 at 4:00 p.m. Award winners will be announced in the spring of 2021.
Campus Store News!
In-store Shopping: The campus store will be open during the remote learning period for students, staff, and faculty only. Curbside pick-up and home delivery services are also available.
Fall Rental Return Reminder: Fall rental returns are due 12/17/2020. Students may return their rentals to the store in-person or by using the shipping carrier of their choice and at their expense. Returns must include the student's name, patron ID, and phone number with all rental returns. Students will receive an email with return instructions and their patron ID before the rental return due date.
Five Years, Two Degrees
Did you know that your student can get both a bachelor's and a master's degree in just five years at Wheaton? Download our e-book to learn more about the Accelerated M.A. program, and sign up for a virtual appointment with Graduate Admissions to find out how your student can save money, save time, and graduate with two degrees in five years.
Center for Vocation and Career
Externship Day is now Externship Week and will include alumni around the world, not just around the corner! We know students will benefit from exploring the many different jobs and careers available to them as liberal arts students. What better way to explore career options than by talking to alumni who have gone before them? Students sign up to participate and then later rank their choices of alumni with whom they hope to connect. Sign-ups kick off on Friday, November 6, and Externship Week is January 11-15.
A new initiative launching in January is Career Communities. This is a chance for your student to engage with their peers in learning from key alumni in specific industries. Students will discover the skills they'll need, how best to pursue internships and jobs, and what to expect when working in unique industries. We'll also have one Community just for students who are exploring different industries. And two of our Communities will serve our Black and Latino students respectively, equipping them for some of the unique challenges they may face as racially-ethnically diverse students. Students will be receiving information on how to sign up in the coming weeks.
Our team will be available virtually while your students are home. If they've got some extra time on their hands, this will be a great chance to polish that resume, create a LinkedIn profile, grow their network by connecting with alumni, or practice interviewing. To get started, reach out to our team via Virtual Drop-Ins or visit our resources on Handshake.
A Word with Admissions
Parents can influence the culture and community of Wheaton College simply by referring a potential student. Do you know a high school student who you think would be a great fit at Wheaton? We value your opinion and take every referral seriously. Thanks for helping shape the Wheaton Community!
The Sounds of Christmas
Save the date, Friday, December 18, 2020!
This year's Christmas Festival, Risen with Healing in His Wings, will be accessible to all for free through our virtual premiere. To access the concert please register at wheaton.edu/cfest. The premiere will include performances by the Wheaton College Concert Choir, Men's Glee Club, Women's Chorale, Symphony Orchestra, Percussion Ensemble, and Harp Ensemble as well as a special performance by alumnus baritone Will Liverman'10.
How can you pray for Wheaton this month?
Give thanks and praise to God for the continued low number of COVID-19 cases at Wheaton College and for providing a way for students to remain on campus this fall semester. "I will give thanks to the Lord with my whole heart; I will recount all of your wonderful deeds." Psalm 9:1
Pray that the Lord will strengthen students as they tackle the build-up of exams and projects due before Thanksgiving break. "I can do all this through him who strengthens me." Philippians 4:13
Pray that God's peace will reign in the hearts of those in the campus community who are anxious, overwhelmed, and fearful. "And let the peace of Christ rule in your hearts, to which indeed you were called in one body. And be thankful." Colossians 3:15
Pray for the Lord's wisdom to guide President Ryken, the Senior Administrative Cabinet, and the Board of Trustees as they diligently seek to lead the College in these unprecedented times. "Trust in the Lord with all your heart, and do not lean on your own understanding." Proverbs 3:5
Wishing you a happy Thanksgiving,
The Wheaton College Parent Engagement team