From the President

Dear Parents,
While the month of February is the shortest month of the year and includes meaningful observances like the beginning of Lent, Black History Month, Valentine's Day, and President's Day, February is also a month of gloomy weather in Wheaton. The meteorological outlook on campus can often be bitterly cold, with snow, ice, and many successive days of overcast, grey skies.
It may be surprising how the weather can affect your student—especially those from California, the Southwest, and Florida—so please keep your students in prayer as they develop the character qualities of patience and perseverance, and as they learn the discipline to keep spiritually, physically, emotionally, and intellectually healthy.
Please also pray for our faculty, coaches, and staff members, as they teach, inspire, mentor, and encourage the students that all of us love in the Lord, as they prepare for kingdom service.
In Christ's service,


Philip Ryken
President
Parent Prayer Calls – Register Today!
Please join your fellow Wheaton parents on the nationwide Collegiate Day of Prayer, Thursday, February 23, to pray for the spiritual climate on Wheaton's campus and for the individual needs of your student. Calls will begin at 7 p.m. in all U.S. time zones and each Zoom call will be hosted by a current parent who will help guide the prayer time. Registration is required and will close on Tuesday, February 21 at midnight. We invite you to register now.
If you are not available to join a call, we still encourage you to pray! The Alumni and Parent Prayer Card offers 31 ways to pray for Wheaton and will help you know what to pray for.

Spring Break and Housing Selection Information
Spring Break Housing
Campus housing closes for spring break on Saturday, March 4, at 10:00 a.m. and reopens on Saturday, March 11, at 3:00 p.m. The meal plan ends with dinner on Friday, March 3 and resumes with dinner on Saturday, March 11. The College provides housing for students during spring break for the following reasons: athletics, international students, campus employment and required academic commitments.
Our housing calendar provides additional dates and times when housing closes in May and re-opens in August.
Housing Selection Process
Students will begin selecting their 2023-2024 housing locations after spring break. Housing selection is based on one's year in school, starting with seniors and moving to freshmen. Within each class a random lottery number is given and those with the lowest numbers select first. Since a core pillar of the Wheaton experience is our residential philosophy, students are expected to live in campus owned housing throughout their educational experience. If your student requires an ADA housing accommodation, please have them email LAS@wheaton.edu to start the process. Since we are a residential campus, the only students who will be able to live off campus for the 23-24 school year are those who qualify for automatic off-campus permission, which includes: fifth-year students, married students, HNGR students, students who live with their parent(s) or in a home owned by their parents (parents renting an apartment does not qualify unless the parent is living there fulltime), third and fourth-year Engineering and Nursing students enrolled in the 3/2 program, and part-time students (enrolled in 11 hours or less during the fall and spring semester). Students who sign a lease and are denied off-campus permission will be required to remain in campus housing and are still responsible for their off-campus lease. Questions regarding housing can be sent to housing.services@wheaton.edu.
Commencement Weekend: May 6-7
Congratulations to the parents of soon-to-be-alumni in the Class of 2023! The Commencement Weekend schedule of events and related Frequently Asked Questions will soon be posted on our website. We look forward to welcoming you to campus for this meaningful weekend in your family's life.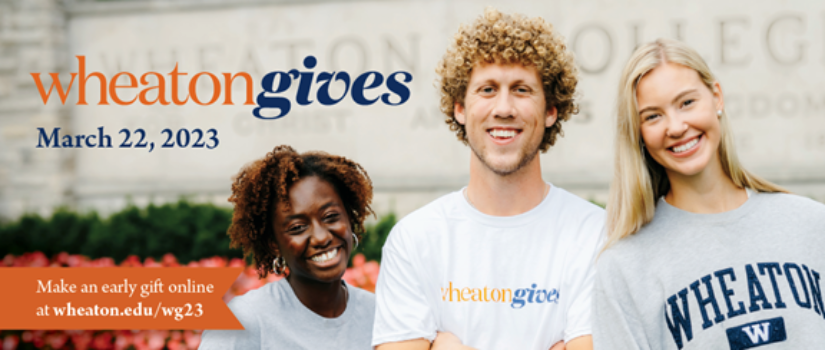 WheatonGives – $5,000 Scholarship and Graduation Tickets
On March 22, 2023, Wheaties from across the globe will once again come together for Wheaton's fifth-annual giving day, WheatonGives. This year, with brand-new giving options, the game has changed.
Your gift toward the Wheaton Fund, Academic and Need-Based Scholarships, CVC Internships, or Athletics during WheatonGives allows every student to have a more excellent and affordable Wheaton education.
Parents, when you make an early gift at wheaton.edu/wg23, you can vote for your son or daughter's club or sports team to win extra prizes and nominate one of their friends for a $5,000 scholarship. If you are a parent of a senior, your gift automatically enters you to win one of four extra graduation tickets!
If you have any questions or want to make a leadership gift to sponsor one of our many exciting challenges, please contact annual.giving@wheaton.edu.

Leadership Opportunities at HoneyRock
Employment and Internships on Summer Staff
Christ-centered community, meaningful work, a beautiful place to call home for the summer —working or interning at HoneyRock makes for an incredible experience in personal growth and creates the conditions for an unforgettable summer. Internships are available for a wide variety of majors. Explore employment opportunities at wheaton.edu/summerstaff.
A Season for Focused Discernment & Discipleship
Vanguard, the Gap Year of Wheaton College: Build a vision for the future by bridging the gap between high school and college with a year unlike any other. Vanguard Gap Year gives students an opportunity to explore diverse cultures and navigate life's big questions while living in a Christ-centered community. This year of hands-on education and leadership development will prepare you for the challenges of college and beyond.
Fellowship at HoneyRock: Fellows are college graduates seeking to personally develop and purposefully invest in Vanguard Gap Year students. The Fellows Program includes spiritual formation and vocational discernment, participating in HoneyRock's leadership development progression, community living, paid work, and discipleship.
Conservatory News

As the spring semester races on, the Conservatory is abuzz with double the number of concerts as last fall and some exciting happenings. There were two Wheaton College nominations for the 2023 Grammy awards. The Grammy Award winner for Best Opera Recording went to The Metropolitan Opera Orchestra & The Metropolitan Opera Chorus - Blanchard: "Fire Shut Up in My Bones," featuring alumnus Will Liverman '10. "Lord, How Come Me Here?' an album composed by Conservatory professor of composition Dr. Shawn Okpebholo received a nomination for Best Classical Solo Vocal Album. The album also featured Will Liverman and was produced by Brian Porick '98, Wheaton College Event Production Manager, with Cello Professor Leonard Altino. We hope this is the first of many Grammy nominations recorded on campus in Armerding Recital Hall and George Beverly Shea Recording Studio.
Come spring break, the Wheaton College Symphony Orchestra will be visiting Milwaukee! During their time on tour, the ensemble will engage with middle and high school students through side-by-side rehearsals and workshops, share the music and mission of Wheaton College in a public performance given in partnership with Eastbrook Church and Eastbrook Academy, and experience Milwaukee arts and culture. The tour will end with a return to Chicago for a group outing to the Chicago Symphony Orchestra and a Sunday morning performance at Wheaton Bible Church. Please get in touch with conservatory.of.music@wheaton.edu for more information.
How can you pray for Wheaton this month?
Pray that all students would grow in grace and in the knowledge of God's word.
Pray for God to raise up student leaders with a passion for evangelism and missions.
Pray that students will have an increasing hunger and commitment to a life of prayer.
Pray for the Chaplain's office as it continues to teach and minister to all of campus.
With thanks for your involvement and prayers,
The Wheaton College Parent Engagement Team