Provost Lee says her creative work informs her leadership style of seeking meaning and purpose with empathy and resilience.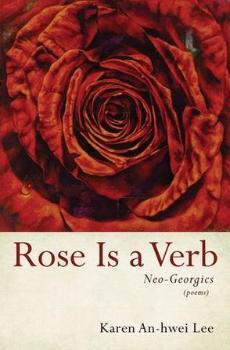 Wheaton College Provost Dr. Karen An-Hwei Lee has published Rose Is a Verb, her latest collection of poetry, with Slant Books. The poems explore how "our earthbound journey of life in this fallen world is riddled with beauty and danger—part of the beauty is a glimpse of the afterlife, thanks to the gift of salvation through Christ's sacrifice, once and for all time," says Dr. Lee.
Rose Is a Verb parallels Virgil's The Georgics, with its cyclical nature imagery and motifs on happiness. The Georgics was written circa 29 BC, yet despite the many historical events since then, many dangers have remained the same, including brushfires, war, and even anthrax.
Dr. Lee says she wanted "to convey a sense of hope and solace in the midst of sorrow. The poems, in this manner, embody language itself as a form of spiritual experience where we encounter God, where we receive divine revelation through the Word."
The book has received enthusiastic reviews. Oliver de la Paz, author of The Boy in the Labryinth, reflects that Lee "poses essential questions about who we are and what we offer to the world. … Rose Is a Verb is the kind of breathtaking inquiry necessary for us in a time of ultimate questions." Eric Pankey, author of Owl of Minerva, says, "In the midst of such an innovative poetry, such a radical experimentation, what a surprise it is to find this kind and confident guide to take us on this journey."
Dr. Lee believes that her creative work informs her leadership at Wheaton. "One needs to be mindful of life-giving purpose as an administrator, and poetry continually propels us toward meaning and purpose. Poetry has also taught me to balance empathy alongside personal and institutional convictions. A poet is someone who can contemplate deeply and can produce distilled expressions of what's going on as an observer and also as a participant. So, this in turn, informs leadership, because leaders have to engage with people and ideas. We must see God's face with clarity in the midst of chaos and uncertainty and remain anchored in truth and resiliency."
In the matter of whether Dr. Lee considers herself foremost a Christian poet or a poet who writes Christian poetry, she says, "It is a little of both, I suppose. Ephesians 2:10 says, 'For we are God's handiwork, created in Christ Jesus to do good works, which God prepared in advance for us to do.' The original Greek word that Paul chose was 'poiema,' translated as 'handiwork,' 'workmanship,' 'masterpiece,' and in a sense, 'living poems' of God's creativity. So, as Christians, we are all 'living poems' designed by the Creator. I happen to be a 'living poem' who also writes poems. Not all Christians write poetry, and not all poets are Christian: in a way, I dwell at the intersection of these categories."
Dr. Lee earned her B.A. Magna Cum Laude in English from Brown University. She received an M.F.A. in Literary Arts from Brown and an M.A. in English (poetry writing) from the University of California, Berkeley. She earned her Ph.D. in English from the University of California, Berkeley. An accomplished poet, fiction writer, literary critic, and translator, Lee is a voting member of the National Book Critics Circle and a recipient of a National Endowment for the Arts Individual Artist's Grant.
For more information and to order copies of Rose Is a Verb, go to Slant Books.