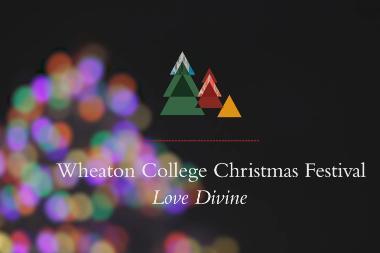 For decades, the Wheaton College Christmas Festival has been a beloved annual tradition on campus and in the community as more than 200 students in Conservatory performing ensembles celebrate the birth of Christ through a program of sacred music.
This year, the Christmas Festival will have an even broader reach, as the 2016 concert, "Love Divine," airs on American Public Television (APT) stations. The broadcast is a co-production of Wheaton College and WTTW11, Chicago's premier public television station.
"For several years, WTTW has been proud to broadcast Wheaton College Christmas Festival to our viewers," says Dan Soles, Senior Vice President and Chief Television Content Officer at WTTW. "We are excited to now share this fantastic holiday tradition with viewers around the country."
The special features the Wheaton College Concert Choir, Men's Glee Club, Percussion Ensemble, Symphonic Band, and Women's Chorale and guest artist Claire Holley for a selection of pieces spanning the centuries, including "Wolcum Yole," "A Rhapsody on Christmas Carols," "Hark! The Herald Angels Sing," and "Gloria."
"As artistic director, my goal is to produce a cohesive program that tells the story of Christ's birth while showcasing the breadth of musical talent at Wheaton College," says Professor of Music and Director of Performance Studies Dr. Mary Hopper. "This year, I'm especially proud to feature an alumna, Claire Holley, in performance with Wheaton students."
Hopper and Dr. Michael Wilder, dean of the Conservatory of Music and Division of Arts and Communication, are excited for the music of Wheaton College to reach new audiences.
"The Christmas Festival is a wonderful opportunity to celebrate the birth of Christ with praise, thanksgiving, and music," Wilder says. "We are grateful to share this program widely, and hope that the music blesses those who hear it all across the country."
To find out if the broadcast will air on your local public television station, visit wheaton.edu/christmasfestival, or check local listings.