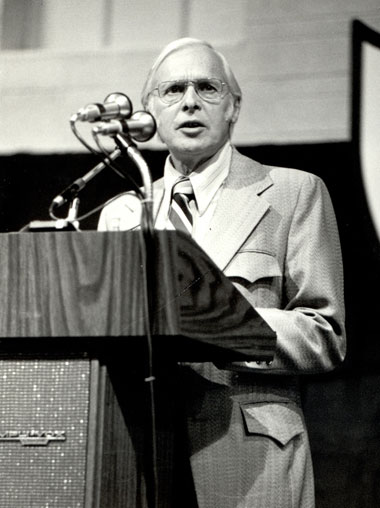 Missionary and theological educator Dr. Hugo Wilbert "Will" Norton died February 20. Norton was 102.
"Dr. Norton's warm heart for sharing the gospel and visionary leadership for global missions has an enduring legacy in the world today through the many lives he touched and the many thriving institutions (including Wheaton College) that he worked to start or helped to grow," said Wheaton College President Dr. Philip Ryken.
Norton graduated from Wheaton College in 1936, with a Bachelor of Arts in History/Anthropology. He was named Alumnus of the Year for Distinguished Service to Society by Wheaton College in 1986.
After graduating from Wheaton, Norton enrolled at the newly founded Columbia Biblical Seminary (now Columbia International University) in Columbia, S.C., where, along with Dr. Robert McQuilkin and several Wheaton alumni, he founded the Student Foreign Missions Fellowship (SFMF). Norton was the second General Secretary of the SFMF, which eventually became the Missions Department of InterVarsity Christian Fellowship.
From 1940 to 1949, Norton and his wife, Colene, served as missionaries in the Belgian Congo with the Mission Evangelique de L'Ubangi. While on furlough in 1945-47 he helped plan the first InterVarsity Missions conference in Toronto, Canada—the conference now known as Urbana.
Norton briefly served as a visiting professor at Columbia Bible College before joining the faculty at Trinity Seminary and Bible College (later called Trinity College and Trinity Evangelical Divinity School). From 1950-1964, Norton served as professor of missions, dean of education, and president at Trinity College and Trinity Evangelical Divinity School. After completing a Th.D. in church history from Northern Baptist Theological Seminary, where he studied under Carl F.H. Henry, he pursued post-doctoral studies at University of Chicago under Paul Tillich.
In 1965 Norton joined the faculty of Wheaton College Graduate School. He was named dean in 1971 and lead nine years of growth and program development. In 1975, he authored the influential missiology book What's Gone Wrong with the Harvest? A Communication Strategy for the Church and World Evangelism.
"Dr. Norton was a pioneering leader in many capacities, but especially in the world of the academy," said Dr. Scott Moreau, Associate Academic Dean of Wheaton College Graduate School & Professor of Intercultural Studies. "He was the person who initiated the M.A. in Intercultural Studies; without him, the degree program would not exist."
In addition to his service at Trinity and Wheaton, Norton founded the Bible Institute of the Ubangi (now Goyongo Theological Seminary); the doctoral program in missions at Reformed Theological Seminary in Jackson, Miss.; and the Jos/ECWA Theological Seminary in Nigeria.
He fostered advancement in theological education in the third world as executive director of the Committee to Assist Ministry Education Overseas from 1983-1989. He was Professor of Missions at Reformed Theological Seminary in Jackson, Miss., from 1989 to 1993; and Distinguished Professor of Missions at Reformed Theological Seminary in Charlotte, N.C., 1994 through 2003.
He was awarded honorary doctorates from Jos Evangelical Theological Seminary in 1995 and Columbia International University in 2012.
Norton spoke English, Swedish, Lingala, and Mbaka and had reading knowledge of Norwegian and Danish. He was a specialist on the history of the Scandinavian and the Scandinavian-American church. He spoke widely at missions conferences, and traveled to all continents except Antarctica for his speaking engagements.
Survivors include three sons, Will, Jr. '63 (Susan), Peter '66 (Jean '66) and Seth (Linda), a Wheaton College professor. Norton's wife, Colene, preceded him in death.
Services have been held. More information, including an exhaustive obituary, is available here; The Billy Graham Center Archives also has a memorial page for Norton.