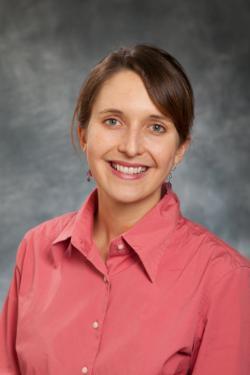 Wheaton College Associate Professor of New Testament, Amy Peeler, was awarded a Senior Research Fellowship at the University of St. Andrews' Logos Institute for January through August of 2018. The fellowship allows Dr. Peeler to take a sabbatical to study the theology of the family of God in the New Testament.
"I'm overwhelmed by the immense gift this sabbatical fellowship is," says Peeler. "I'm grateful to Wheaton for the time away and to Logos for the invitation."
For Senior Research Fellows, the Logos Institute selects academics who are respected in systematic or exegetical theology. The fellows complete a major research project and participate in Logos Institute's seminars and lectures.
The fellowship provides Peeler time and resources to focus on her research. Dr. Peeler says that it will also provide "amazing dialogue partners who will add theological and philosophical precision to my strengths as an exegete."
"I am most looking forward to interacting with amazing scholars—Alan Torrance, N. T. Wright, David Moffitt, Kevin Diller—as I focus in depth on one project," says Peeler.
Her project will provide an exegetical analysis of familial language and themes in the New Testament, which will contribute to a better understanding of both divine and human personhood. This work expands on Dr. Peeler's previous book, You Are My Son: The Family of God in the Epistle to the Hebrews (T&T Clark, 2015).
The new research will consider key New Testament texts that articulate the character of God the Father and God the Son as disclosed in the relationship between them, and she will argue for a pneumatological foundation of this relationship. From there, she will connect the familial relationship humans can have with God.
"My goal is to have a complete draft of a book by the time I leave in August."
Peeler has known for years that this was to be the focus of her second monograph. Through research, writing, teaching, and parish work as an Associate Rector at St. Mark's Episcopal Church in Geneva, Illinois, she has seen her thoughts mature. The fellowship will give her the opportunity to devote concentrated attention to bring the project to fruition.
The fellowship also means an adventure for Peeler and her family—her husband and three kids—"to experience another culture and to do some traveling."
For more information on Peeler's research, view her Wheaton College TowerTalk, "What Do We Mean When We Call God "Father'?"