One of our two ceramics instructors, Ali Mayer, is here today to share some exciting news about the Ceramics studio! Ali has a deep connection with the program, as she was an Assistant Counselor the summer we began Ceramics. She shares how the studio has not only shaped her story, but a glimpse into how it is impacting others.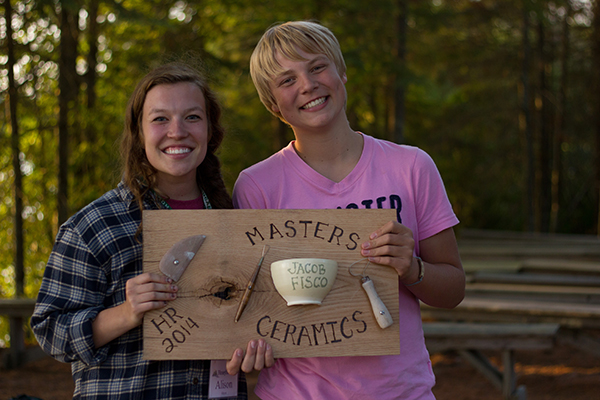 "Hello! My name is Alison Mayer and I am one of the ceramics instructors this summer.
Ceramics was added to the activity roster in 2010 in an effort to expand the arts at HoneyRock. When I was an Assistant Counselor, I had the opportunity to be in the studio. My experience working with the clay that summer shaped the path of my life, giving me a vision for the direction that God was leading me. Creating art became passion which has continued to grow since that summer. In order to fulfill my calling, I am pursuing a degree of Fine Art at Emily Carr University of Art and Design. My desire is to become an art professor at a small college or art school.
I am very pleased to introduce the very first ceramics masters student at HoneyRock, Jacob Fisco! Jacob participated in Advance Camp this summer and has been coming to HoneyRock for several years. He has participated in the ceramics program since it's beginning. As a Masters student, Jacob created a tea set including a teapot, saucers, and tea cups. He also created a series of five mugs, learned how to load and fire the kiln, made glazes and slips, plates, lidded jars, and the list goes on. Another important part of all Masters awards at HoneyRock is the service and assisting hours that the student completes, giving back to the activity area. Jacob served all areas of the studio for a total of six hours in order to receive his Masters. It was a great joy to work with Jacob and share in something we have both come to love so much at HoneyRock!"
The Ceramics studio serves more than our camper programs. During the spring, runs a Woodfire class, where Wheaton College students come to HoneyRock for two weeks to create pieces, firing them in our wood kiln. The studio will also play an incredible role in the program, coming September 2015.