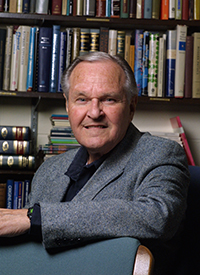 The Wheaton College community mourns the death of Professor of Physics Emeritus Dr. Joseph Spradley. Dr. Spradley died March 29 following a yearlong battle with cancer. He was 83.
Dr. Spradley taught at Wheaton for 55 years—from 1959 to 2014—making him the longest serving professor in College history. He taught courses in subjects including physics, astronomy, math and history of science.
"Dr. Joe Spradley has been a lifelong friend and constant encouragement," says Wheaton College President Philip Ryken '88. "Studying the history of science with him was an important part of my liberal arts education at Wheaton College. As President it was a thrill for me to see him teach in the new Meyer Science Center – more than forty years after he was one of the first faculty members to teach in what is now our old science center, Armerding Hall."
Dr. Spradley completed his doctorate at UCLA and joined the Wheaton faculty after four years as a research engineer working on microwave antennas. In addition to his service at Wheaton, from 1965 to 1968, Dr. Spradley taught at Haigazian College in Beirut, Lebanon, where he also served as acting president. From 1970 to 1972 he was a USAID science specialist and senior lecturer of Ahmadu Bello University in Zaria, Nigeria. He held additional international visiting professorships, including service at Daystar University in Nairobi, Kenya, and at American University in Cairo, Egypt.
He published widely in journals including American Journal of Physics, American Scientist, Astronomy, Christian Scholar's Review, Perspectives on Science and Christian Faith, The Physics Teacher, and Sky and Telescope. His books included the textbook Physics & Chemistry of the Earth and Visions that shaped the Universe: A history of scientific ideas about the Universe.
"A Christian view of the physical world sees nature in the light of Scripture and with a concern for culture. This involves a creative view of nature that recognizes the world as real and good," he wrote in a chapter of The Making of a Christian Mind: A Christian World View & The Academic Enterprise. "It includes a critical view of scientific ideas and methods that looks to Scripture for guidance, and for faith in the order and intelligibility revealed in creation. And it attempts a constructive view of culture that finds purpose and meaning in seeking to improve the world for the good of humanity and the glory of God."
Dr. Spradley was especially known for helping pre-med students prepare well for the physics portions of the MCAT. Even after his retirement, he volunteered to teach the physics for medical students course, and some students waited to take the course so that they could take it with him.
A lifelong diver, Dr. Spradley dove three times a week at the Sports and Recreation Center on campus, sometimes with students as his audience. He described the practice as "refresh[ing] my feeling of youth."
"It is fun, it demonstrates the laws of physics, and …the side benefit is that it helps to keep me physically fit," he told Wheaton magazine in 2015.
Dr. Spradley's survivors include his wife, Marilyn '65; his children, Joanna (Charlie) Moffett, Dan (Gail), Ben (Maryann) and Susanna (Thomas) Smoak; and 14 grandchildren, including Luke Spradley '11, Isaac Smoak '14, Alyssa Spradley '18, and Julia Moffett '18.
An obituary for Dr. Spradley is available here; a visitation will be held at Immanuel Presbyterian Church, 29w260 Batavia Road, Warrenville, Illinois, on Friday, April 8, from 5 to 8 p.m., and again at 9:30 a.m. on Saturday, April 9, until the memorial service at 11 a.m.