A group of roughly 17 transfer students, ranging from Fall 2020 to January 2022, gathered on 02/08/2022 to reflect on their transfer experience and offer critical feedback on how Wheaton College can improve its transfer program. Students offered feedback in 3 broad categories: First, What does Wheaton College do exceptionally well? Second, What can Wheaton College improve? Third, what should Wheaton College eliminate?
EVP of Academic Affairs, Katie Molloy, has been heading up the conference attendance and presentation grant program. She has been allocating funds to students who have excellent faculty recommendations and will be attending or presenting at a conference that will benefit the student academically.
The Conference Attendance Grant Program exists to reimburse students who, on behalf of Wheaton College and its mission to further Christ's kingdom, attend conferences that will inform their vocational discernment and future scholarly projects and/or research.
The Conference Presentation Grants Program helps undergraduate students present at academic conferences by rewarding funds for registration and presentation fees related to the conference.
Wheaton College Student Government passed a proposal that would allow transfer students to be able to request if they would like to room with another transfer student or a returning Wheaton College undergraduate student. Until now the process has been that transfer student are paired with other transfer students for the most part because they have shared experiences. However, after speaking with Wheaton College students who have transferred many of them said that their experience was isolating and they wished they had a roommate who already knew Wheaton College and could show them the ropes. A member of Wheaton's Student Government met with, Justin Heth, the Dean of Residence Life and Housing staff, and they were excited to implement this option for transfer students to request to live with a returning student or another transfer student.
For decades, Wheaton College has placed flags on the Anderson Commons walls to represent the country of origin for each student. During the 2021-22 academic year, numerous students from the United Kingdom furthered their education at Wheaton College but Anderson Commons has not showcased the United Kingdom's flag. The board finds that in order to represent each member of the student body in Anderson Commons, it is imperative to fly the flag of the crown. Student Government introduces the British flag in Anderson Commons, commonly referred to as 'Saga', to accurately represent Wheaton College's student body, specifically students from the United Kingdom.
Student Government of Wheaton College confirms Rohan Suri to serve as a Senior Class Co-President for the 2021-2022 Student Government Board.
According to the Student Government Constitution, Article X, Section 3, Replacement of Class Co-Presidents: "When the position of Class Co-President becomes vacant, the remaining Class Co-President, in conjunction with the Student Government President, will be charged to nominate a new appointment to the vacant position. It is recommended this nomination be a member of the class council. This nomination must be approved by an absolute majority of the Government."
Therefore, after much discussion, we believe current Senior Council member Rohan Suri would be an outstanding Senior Class Co-President to serve alongside Class Co-President Sean Kim.
Rohan Suri employs servant leadership, cares for fellow students, and has proven his dedication to representing the Senior Class.
Due to the rise in Covid-19 in September, many students found themselves having unequal access to their classes while in isolation or quarantine. In the interest of both faculty and students, the Wheaton Student Government submitted a proposal to have a mass email and policy update (12R5). The goal of this email is to help students to better understand what is allowed of their faculty, and faculty to better understand what students are experiencing. Moreover, by hearing that the College is highly encouraging faculty to offer more remote access to classes, students will feel better supported in their academic pursuits. Therefore, by clarifying and updating the current College policy on dual-modality, the administration will work to resolve confusion amongst students and faculty and increase the engagement of isolated, quarantined, or close-contacted students, resulting in an overall more symbiotic relationship between faculty and students.
Over the summer and this August, Business & Services Manager, Alex Vlaisavich led the most successful Wheatie Card fundraising campaign in the history of Student Government. Alex and PR Manager, Bekah Hadley, designed these one-of-a-kind Wheatie Cards. Many students commented that these cards look much more professional than in past years. Additionally, Wheatie Cards were sold for $5 each instead of the previous price of $10 which increased the volume of cards sold. Over 500 Wheatie cards were sold in 2021. This card provides discounts at restaurants like 302 Wheaton, A Toda Madre, and Egg'lectic Cafe. It also provides discounts at places like Fox Bowl with $3.00 per game after 9:30 pm on Tuesdays and Wednesdays. If you haven't picked up a Wheatie Card this year, stop by the SIO and buy yours today.
The Diversity Committee led by the EVP of Community Diversity, Alyssa Miller, had the opportunity to collaborate with a number of Wheaton organizations to present the first even Student-led Anti-Racism week on campus. These organizations included Solidarity, Koinonia, Unidad, Willie-O, Discipleship Ministries, Wheaton's AACC chapter, Gospel Choir, and more.
The week's events consisted of a prayerful opening in chapel, a presentation on white Christian nationalism, a multicultural worship night, and a panel on social justice by minority student leaders. As we seek to pursue true kingdom diversity on campus it is more important than ever that we come to know our history and how it affects the present, celebrate the diversity God has gifted us with, listen to people's testimonies, and pursue anti-racist action in our lives. Diversity Committee was so blessed to collaborate on this series of events and looks forward to seeing their impact and continuation at Wheaton.
After Wheaton's Student Government launched its first website over a year ago on Google Sites, we are now pleased to have launched our new website on Wheaton College's main website. The goal behind this new website is to make it more accessible for students, given the easy searchability of the Wheaton website and the fact that many students already use it on a daily basis.
The website is dedicated to informing the student body on the activities of Student Government and providing a platform for them to engage with their student representatives by presenting current initiatives, board positions, governance resources, and ways to connect with Student Government.
Browse the new website and learn more about the ways Student Government members are advocating for and responding to student needs or fill out the contact form if you would like to get in touch with us!
In the wake of the COVID-19 pandemic, student government's Conference Attendance and Presentation Grant programs faced a significant challenge: they had always been conducted using paper applications and forms. Therefore, this year's Academic Affairs Committee began to digitize the entire grant process, reforming a number of the bylaws that constrained the attendance grant program while we were at it (Proposal 11R11). We were successful in launching both programs and the improvements that have been made to them will serve as boons to future SGs and to the student body for years to come.
One of our primary goals as freshman class co-presidents is to foster community and a sense of belonging for all freshman. During the fall semester, the Freshman Class Council worked on a connection initiative that consisted of a letter writing project and mapping project. The letter writing project had freshmen students writing letters to an assigned partner to keep our class connected over the break. The mapping project allowed participants access to see where their classmates would be over the break so that they might meet up and get to know the people that live close by. Both initiatives were a success with 56 people of the freshman class participating in the letter writing project and 278 involved in the mapping project! We were thrilled to hear of how Wheaties found time to hangout over winter break and how they got to meet new people in a fun way! We hope to continue fostering this growth for the rest of the year! Best, Jacob and Amber
The Safe Havens Initiative served to provide tangible care and embodied hospitality for racialized minority students during a season of racial and political upheaval in our country and our Wheaton community. A proposal to establish the initiative was passed before the 2020 U.S. Presidential Election and provided for the creation of care kits that could be used by student leaders who cared for minority students and hosted them in a COVID-safe manner in their residences.
The initiative also had the purpose of promoting awareness and understanding of Title IX procedures. One student said regarding the initiative, "I appreciate the work you are doing, but especially your recent endeavor in wanting to create a haven for minority students. I feel that as a freshman this is so needed...thank you for recognizing that need and for doing something about it, I feel seen and valued." The extra care kits that were left over after election season were then donated to Koinonia, who has decided to start a similarly structured care program.
This year, a branch of the Campus Sustainability Committee evolved to organize efforts to care for the newly created campus garden. This subcommittee, titled the Garden and Prairie Project (GPP), acquired more than 50 volunteers during the fall semester and has recently developed into a ministry in the Office of Ministry and Evangelism. The mission of the GPP is to educate and mobilize students for a better understanding of food insecurity, local food production, sustainable agriculture, and creation care through the cultivation of our campus garden and prairie restoration.
So far, the GPP has sent most produce to a local food bank, the People's Resource Center, and they look forward to developing closer connections with them and other need-based organizations in future years. From this point forward, a member of the GPP will sit on the Campus Sustainability Committee as a liaison between the GPP and Student Government.
Because colleges around the country were forced to move to online learning due to COVID-19, Wheaton College's Student Government developed an unprecedented plan to host a virtual election season to elect the members of the 2020-2021 Board.
Regardless of their place in the world, Wheaton students were eligible to run for SG positions and advertise their platforms on social media and through email. Candidates found creative ways to gather support for their campaigns and even submitted video recordings of their campaign speeches to the student body.
The SG Election Committee and Public Relations Manager, Riley Cunningham, work tirelessly to make these elections possible amid unthinkable circumstances. You can learn more about the election season by looking at the SG Instagram or the updated Constitution and Bylaws!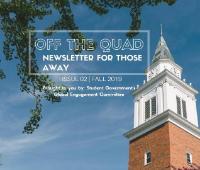 Our Global Engagement Committee, led by Riley Hobby, completed the second edition of "Off the Quad," a bi-yearly publication aimed at updating study abroad students about events on campus and things they may have missed.
In the opening statement of the newsletter, Riley highlights the purpose of the letter and writes, "We know how stressful this transition can be, so we wanted to hopefully provide a space to plug you back in to what is going on here on campus."
Some major articles of the newsletter include a letter from President Ryken, an update on the new freshman class, and a run down of sports events!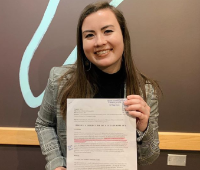 Averi Cummings, EVP of Environmental Sustainability, and her committee recently brought to Board a proposal for Wheaton College to hire a Director of Sustainability. This new position would not only help centralized sustainability efforts on campus, but it would also bring about long-term financial savings for the college.
The proposal states that, "A Wheaton College Director of Sustainability would propose and execute resource-saving initiatives around campus, act as an initiator to get interested students involved in sustainability efforts, and help to administer academic programs relating to sustainability. "
The proposal passed in the Student Government Board and will now make its way to President Ryken and the administration for further review.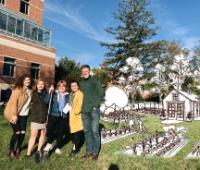 Each year, Bon Appetit awards a 1000$ grant to student groups who propose plans for compelling project to improve food sustainability. After a competitive selection process and gaining nearly 6,000 likes on their Instagram post, the Campus Sustainability Committee (CSC) won the grant to build a campus garden.
In partnership with Wheaton's facilities department, the CSC will work to design a garden that will increase biodiversity, allow students to connect with and learn about the natural world, and create opportunities for awareness initiatives around sustainable agriculture. The garden will also benefit the broader Wheaton community and serve as an example for successful suburban food production.