The Office of the Chaplain exists to cultivate an environment in which students, faculty, and staff learn to love Jesus Christ and His Kingdom.
Dr. Greg Waybright is from Bluefield, West Virginia and is married to Chris Waybright (B.A., from Wheaton College, '75). They have two children and two granddaughters and one grandson. Greg graduated from Wheaton College in 1974 with a B.A. in Philosophy and Biblical Studies and from Wheaton Graduate School in 1978 with an M.A. in Communications. He also holds a diploma from the Moody Bible Institute, and degrees from Trinity Evangelical Divinity School and Marquette University. For five years, he served as soloist and music director of the Evangelistic Team-Hamburg in Germany. Following that, he served churches as pastor in California, Wisconsin, and Illinois. From 1995-2007 Greg was President of Trinity International University. He enjoys almost all kinds of music, playing tennis, reading, and spending time with family and friends. He most recently served as the teaching pastor of Lake Avenue Church in Pasadena, CA, and also as a Trustee for the College from May 2010 to July 2020. You may contact Greg at greg.waybright@wheaton.edu.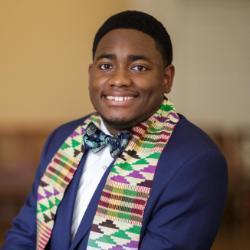 Donté Alexander Ford is a native of Philadelphia, Pennsylvania, and serves the Wheaton College community as Assistant Professor of Music and Associate Chaplain for Worship Arts. Best described as a musician, minister, and scholar, he is an alumnus of Penn State (B.A.) and Southern Methodist Universities (M.S.M., M.M., M.Div.). At Wheaton, Donté teaches Principles in Music and Worship Ministry, coaches Chapel Bands, and provides principle oversight to the music and worship arts offerings in Chapel worship.
Donté's many musical talents have afforded him the opportunity to serve as guest clinician/conductor, lead pianist, opera chorister, resident percussionist, and Minister of Music. His musical activities also include composing, as he is a published composer with GIA Publications, Inc. A Christian minister, Donté is a gifted preacher, holding ministerial credentials in the Holiness-Pentecostal and Baptist traditions. Though a lifelong Pentecostal, Donté is committed to the diversity of the body of Christ. As a scholar, Donté focuses his efforts on the history and preservation of Black American concert and popular music, church hymnody and congregational song, as well as the history, theology, and music of African-American Pentecostalism. His scholarly work includes lectures on African-American choral art forms and contributions to the Canterbury Dictionary of Hymnology and UM Discipleship Ministries' History of Hymns. You may contact Donté at donte.ford@wheaton.edu.
Ray Chang's pastoral role includes working alongside the Chaplain, as well as providing oversight and leadership to the Discipleship Ministries (DM) on campus.
Though born in Chicago, Ray has had the opportunity to travel widely (40+ countries and counting!), and has lived in various places in the world, including countries in Asia, Europe and Central America. Since his graduation from Wheaton College in 2006, Ray worked with the Peace Corps in Panama as a Community Economic Development Volunteer, as a youth pastor in Los Angeles, as a director of two non-profits, and at a real estate technology company based in Seattle. Prior to working at Wheaton, Ray served for three years on the pastoral staff at The Orchard Evangelical Free Church in Barrington, IL. He holds a Master of Divinity degree at Trinity Evangelical Divinity School. Ray is happily married to Jessica (Min) Chang, class of 2012, and is pleased to be able to serve at his Alma Mater. You may contact him at ray.chang@wheaton.edu.
Francesca Tso is delighted to return to Wheaton after graduating in 2018. She enjoys the behind the scenes administrative work as well as meeting students, so come by and say hi! Francesca studied English Literature and Spanish as an undergrad and aspires to become a children's librarian. Francesca has lived on the West and East Coast and has decided that both are superior to the Midwest—she particularly misses the hills and mountains—but is deeply grateful for her community in the Wheaton area.
Francesca is a voracious reader, takes walks as frequently as the Chicago weather will permit, loves spending time with kids, and is always ready for a good conversation or a new adventure! Her passions include community, relationships, and hospitality, and you will often find her having conversations about race/ethnicity/culture, emotional awareness, literature, and spiritual formation, haunting used book stores, or writing in her journal. Francesca enjoys having people over to her house and is constantly devising new ways to welcome others in whether it's throwing a dumpling party or hosting a board game night. You may contact Francesca at francesca.tso@wheaton.edu.
A 1977 Wheaton College graduate, Greg Anderson earned his M.Div. from Princeton Theological Seminary, S.T.M. in Theology from Yale University, and Ph.D. in Communication Studies/ Religious Studies from the University of Minnesota. He is a seasoned pastor serving in both American and international contexts, including the Union Church of Hong Kong and the International Community Church in London, and churches in South Dakota and Ohio. He teaches public speaking and preaching courses to Wheaton undergraduates in addition to his duties as chaplain.
He is thrilled to be in the company of Wheaton's world-class scholars, staff, and students and to support them spiritually. He is eager to support and encourage our graduate students to find their place of service. Chaplain Anderson is keen on helping our international students adjust to a new culture (and climate). He learned so much from the international graduate school students he met as an undergraduate and he hopes to keep learning from them.
He enjoys collecting and reading books. But most of all, he is besotted by his fishing buddy and wife of thirty-five years, Holly. Together they are restoring a 1887 house, with Holly doing the skilled and he the unskilled labor. They have four fine adult children and three glorious grandkids. Chaplain Anderson's life verse is Philippians 1:6. He grows increasingly confident that "he who began the good work" in us with bring it to spectacular completion in the day of Christ Jesus. He can be reached at greg.anderson@wheaton.edu.