Posted September 11, 2015 by
Tags: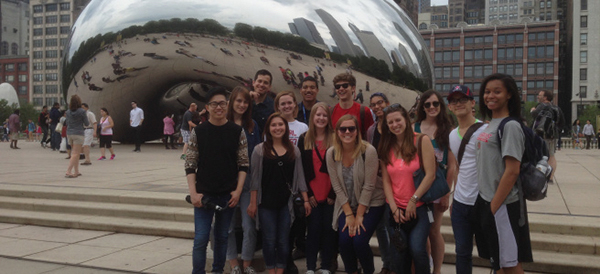 Dear Reader,
I don't think that I am the most qualified person to write about journalism from Wheaton College, but I do think I've been blessed these past two years to do things that let me speak about journalism in a unique way. I picked up a journalism certificate at the tail end of my freshman year, and nearly simultaneously applied for The Wheaton Record's editorial staff. I joined as the school newspaper's associate editor at the start of my second year. Through a somewhat bizarre series of events, I landed an internship with the Chicago Tribune this past summer, editing and designing for the Midwest's biggest newspaper. As a junior, I'm now the editor in chief of The Wheaton Record.
It's still the beginning of a career path, but I've learned a lot since my freshman year. I hope that these tips can help you navigate the competitive world of journalism, especially if you're looking to go down a path similar to mine.
Networking is everything. From what I can tell, if you're not comfortable with a firm handshake/elevator pitch/business card approach, then it will be hard to get what you want. Journalism is crazy competitive. If you're attending a liberal arts school — or, not a journalism school in general — you're already at a slight disadvantage. Fortunately, not everyone who attends a journalism school is good at networking; that's something that is determined by the individual, not the college they attend. Without talking to people who are in-the-know, I wouldn't have been offered any of the opportunities I've received. Ask to shadow, too — it's probably the smallest commitment for the person you want to shadow and you get that person to yourself for a whole work day!
Shoeleather journalism is still the best. Yes, emailing your sources is easier and then you don't have to actually talk to them face-to-face. However, interviews conducted "in real life" will get you the visceral, off-the-cuff responses that are more genuine and less tailored. It will make your piece more believable and you will build trust with the interviewee as a real person, not an email address.
Coding knowledge is a necessity. If you're around my age, and you still don't know how to code, you should probably jump on that. It's necessary for you to know the basics of coding to stay relevant in the workplace, especially in journalism. Learn HTML, CSS, and JavaScript, the basic web design languages as soon as you can – more and more internships are requiring these skills of their interns.
Internships open AND close early! Journalism internships open around September and close around December — some end even earlier. Make sure you don't wait to get your application in.
Learn everything. The more things about journalism that you know, the more attractive you will be to future employers. With its staff size shrinking, each newsroom requires every one of its employees to be able to do more things. Don't stop at writing — learn design, code, editing, and photography!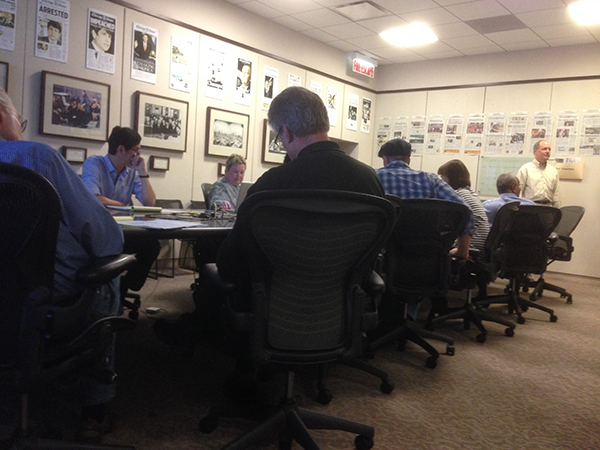 Kirkland An '17 is a junior studying political science with a journalism certificate. Learn more about The Wheaton Record online. Photo captions (from top): Kirk explores the city of Chicago with his fellow summer 2015 Chicago Tribune interns; the Chicago Tribune masthead editors meet to discuss front-page content this summer.