Wheaton College Will Not Host Spring Break Staycation in 2022
Thank you for your past support of Spring Break Staycation at Wheaton. We have enjoyed hosting you on campus for these special events. Unfortunately, the College will not be hosting an organized Spring Break Staycation in 2022. We will update this page should this status change in the future.
The Wade Center Performs The Hobbit
Reservations are required to attend this event, and the performances are now full.
If you are looking for a fun activity during Spring Break 2022, consider joining The Marion E. Wade Center for a dramatic presentation of The Hobbit. This 45-minute drama is for families and children ages 5 and up.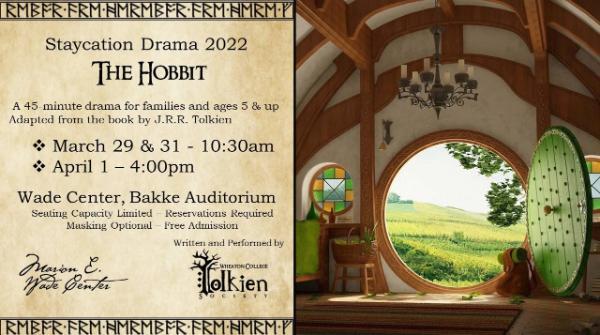 Dates and Times: March 29 & 31 at 10:30 am and April 1 at 4:00 pm.
Location: Wade Center, Bakke Auditorium on the campus of Wheaton College.
For further details, please contact the Marketing Communications office.