Rachael Botting

Adjunct Faculty and Program Assistant

On Faculty since 2015
630-752-6034


rachael.botting@wheaton.edu

I grew up in Burnt Hills, NY, a small town in the Southern Adirondacks of Northeastern New York. In 2014, I graduated from Wheaton College with a degree in Biology. I then went on to receive my Masters degree from Wheaton in Christian Formation and Ministry/Outdoor Adventure Leadership in 2015. After graduation in May 2014, I drove north from Wheaton to HoneyRock to complete my masters degree and I never left. I am currently working on my PhD in Educational Studies from Biola University, studying the power of camp at multiple levels.
This January, I married my husband, Tim, and we live locally in Three Lakes. We thoroughly enjoy the Northwoods, especially winter, and I love to spend as much time as possible outside!
I first came to HoneyRock as a student in the Summer Leadership School (SLS). During my SLS experience, I was able to explore a hidden passion for ministry, leadership, and the outdoors. This passion allowed me to see a future for myself in outdoor ministry. I love the many opportunities at HoneyRock for leadership development. I also love the transformation that occurs as people experience God through the outdoors, authentic communities, and daily opportunities to learn. My passions are for equipping young adults to live responsibly and responsively in the world through direct ministry in camp settings and through supporting local church ministries with education and training.
Biola University - Talbot School of Theology
PhD. Education Studies, in Process
Wheaton College Graduate School
M.A., Christian Formation and Ministry, Outdoor Adventure Leadership, 2015
Wheaton College
B.S., Biology, 2014
Young adult ministry
Outdoor orientation programs
Vocation and work
Stewardship and sustainability
Research and evaluation
Training and equipping
Leadership development
Women in ministry
Christian Camp and Conference Association National Conference 2016, 2017, 2018, 2019
Christian Camp and Conference Wisconsin Sectional Conference 2016, 2017, 2018, 2019
Christian Camp and Conference Sierra Nevada Sectional 2018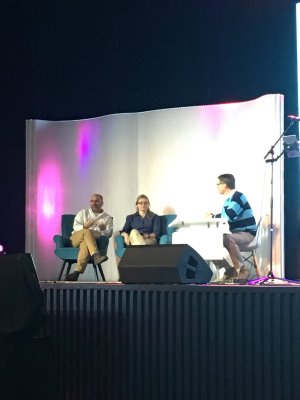 Personal Spiritual Formation
Program Philosophy and Planning
Philosophy of Ministry
Research and Evaluation in Ministry
Impact of summer camp employment on camp staff - 3-year study
Outdoor orientation programs and adaptation to college
Botting, R. G., Ribbe Jr., R. E., & Robinson, G. (2021). Assessing the Impact of Summer Camp Employment on the Development of Workplace Skills. Journal of Outdoor Recreation, Education & Leadership, 13(1), 82–95.
Ribbe, R., Cyrus, R., & Langan, E. (2016). Exploring the Impact of an Outdoor Orientation Program on Adaptation to College. Journal of Experiential Education, 39(4), 355–369. https://doi.org/10.1177/1053825916668900