2014-2015 Counter-Culture Not Anti-Culture
First Hand Report on Syria, Iraq, Iran and Israel
Canon Andrew White
Journey Toward Justice
Dr. Nicholas Wolterstorff
Wednesday, April 15, 2015
Randy Boyogoda will lecture on his new book
Richard John Neuhaus: A Life in the Public Square
Tuesday April 7, 2015
His Own Received Him Not: Jimmy Carter, the Religious Right, and the Eclipse of Progressive Evangelicalism
March 23, 2015
Dr. Randall Balmer lectures on the life of Jimmy Carter, Progressive Evangelicalism and the Religious Right.
A Conversation on the American Response to Terror
March 17, 2015
William Inboden and David Iglesias, Director of the J. Dennis Hastert Center in conjunction with the Politics and International Relations Tiffany Lecture.
If Anybody Asks You Who I Am: the Church and Criminal Justice
February 25, 2015
7PM Blanchard 330
Dr. Harold Dean Trulear shares his heart and work at the Center for Public Justice as Director of the Healing Communities Prison Ministry and Prison Reentry Project of the Philadelphia leadership Foundation.
Mass Incarceration Lecture -Dawn Porter
February 12, 2015
7PM, Barrows Auditorium
Dawn shares about her experiences filming Gideon's Army and the top of Mass Incarceration.
View Event Video
Documentary Showing of Dawn Porter's Film Gideon's Army
Monday, January 26
7PM, Meyer Lecture Hall
Recent Events: Fall 2014
Complexities of the Death Penalty
November 6, 2014
7:30PM, Barrows Auditorium
Wheaton College hosted a panel of experts discussing the complexities and challenges of implementing the death penalty in the United States.
View Event Video
Redeeming the Gift of Power, Andy Crouch
Wednesday, October 15, 2014 7PM Barrows
The Department of Sociology and Anthropology along with the Center for Applied Christian Ethics (CACE) hosted Mr. Andy Crouch for the 12th annual Fahs Symposium and the 10th Annual Christian Moral Formation Lectureship. Andy's undergraduate chapel message reflected on "Good, Very Good, Glory: Culture and the Divine Image."
For the Life of the World Video Series
Tuesday, September 9, 2014
7- 9:30 PM, Barrows Auditorium.
The whole series of 7 videos were shown and a Q & A with actor Evan Koon followed. This series is produced by the ACTON Institute and was co-sponsored with Wheaton's Institute for Faith and Vocation.
Read CACE Student Fellow Drew Boa's Review of this event.
A Conversation on the American Response to Terror
March 17, 20l5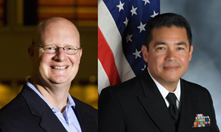 The Center for Applied Christian Ethics and the Politics and International Relations Department at Wheaton College present a discussion titled "A Conversation on the American Response to Terror" at 4 p.m. Tuesday, March 17.
Conversing at the roundtable are David Iglesias, Director of the J. Dennis Hastert Center for Economy, Government and Public Policy and Will Inboden, this year's lecturer for the Wheaton's Tiffany Memorial Lecture on Foreign Affairs. Recent headlines regarding the war on terror, torture and the Middle East will provide rich content for this discussion.
Dr. Inboden is the executive director of the William P. Clements, Jr. Center for History, Strategy, and Statecraft at the University of Texas-Austin. He also serves as associate professor at the Lyndon B. Johnson School of Public Affairs and is a distinguished scholar at the Robert S. Strauss Center for International Security and Law.
In addition to serving as director of the Wheaton Center for Faith, Politics, and Economics, David Iglesias is associate professor of politics and law at Wheaton College. Previously, Mr. Iglesias served as a state, federal and military prosecutor with a focus on national security and terrorism cases. He was the presidentially appointed, Senate confirmed, United States Attorney for the District of New Mexico between 2001 and 2007.