Wednesday, April 15, 2015
Journey Toward Justice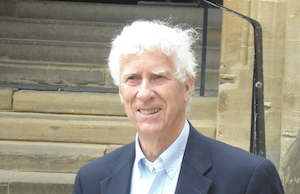 Dr. Nicholas Wolterstorff will be lecturing on his current book Journey Toward Justice, and his experiences in South Africa, the Middle East, and Honduras which have shaped his views on justice through the years. Christianity's demographics, vitality, and influence have tipped markedly toward the global south and east. Addressing this seismic shift Dr. Wolterstorff shows how deeply embedded justice is in Christian scripture. He will discuss the difficult struggle to right injustice and examine the necessity of just punishment while exploring the relationship between justice and beauty and between justice and hope.
Dr. Nicholas Wolterstorff is Noah Porter Professor Emeritus of Philosophical Theology, Yale University. Currently he is a Senior Fellow at the Institute for Advanced Studies in Culture at the University of Virginia. He has been President of the American Philosophical Association (CentralDivision) and of the Society of Christian Philosophers, and is a Fellow of the American Academy of Arts and Sciences. Among the books he has published are On Universals, Works and Worlds of Art, Art in Action, Until Justice and Peace Embrace, Reason within the Bounds of Religion, Divine Discourse, John Locke and the Ethics of Belief, Thomas Reid and the Story of Epistemology, Educating for Shalom, Lament for a Son, Justice: Rights and Wrongs, Inquiring about God Practices of Belief, Hearing the Call, Justice in Love, Understanding Liberal Democracy, and The Mighty and the Almighty.
This event is co-sponsored with the Human Needs & Global Resources program, the Philosophy Department, the Urban Studies program, Politics & International Relations and Global & Experiential Learning.