Documentary Showing of Gideon's Army produced by lecturer Dawn Porter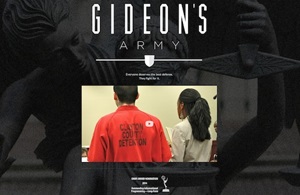 "Every year hundreds of innocent indigents are swept away in the crushing tide of a system strained to the breaking point, some may spend decades in jail, some who are guilty are not brought to justice, and the public is rapidly losing faith in the fairness and competency of the criminal justice system.
Gideon's Army follows the personal stories of 3 young public defenders who are part of a small group of idealistic lawyers in the Deep south challenging the assumptions that drive a criminal justice system strained to the breaking point. Back by mentor Jonathan Rapping, a charismatic leader who heads the Southern Public Defender Training Center (now known as Gideon's Promise) they struggle against long hours, low pay and staggering caseloads so common that even the most committed often give up in their first year.
More than fifty years since the landmark Supreme Court ruling Gideon vs. Wainwright that established the right to counsel, can the courageous lawyers of Gideon's Army revolutionize the way America thinks about indigent defense and make "justice for all" a reality?