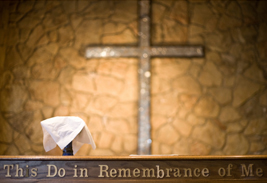 Who's Welcome at the Table?
Wednesday, February 10, 2010 Blanchard Hall
4:00 PM
Join us for a discussion concerning the Eucharist. Wheaton College faculty member Dr. Keith Johnson (Baptist) as well as Rev. Dr. Brent Laytham (North Park University, United Methodist) and Pastor Scott Bruzek (St. John's Lutheran) give different perspectives on the teaching of scripture. We look forward to an important conversation on this question of Christian identity and church practice.
Co-sponsored with the Center for Early Christian Studies