Wednesday, August 31, 7PM, Coray Auditorium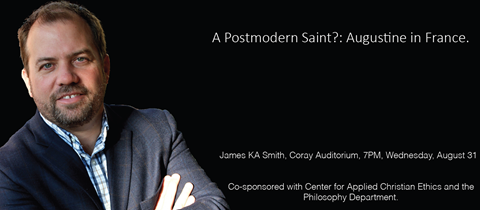 The Center for Applied Christian Ethics and the Philosophy Department are co-sponsoring a public lecture by James KA Smith titled "A Postmodern Saint?: Augustine in France" on Wednesday, August 31, 2016 at 7PM in Coray Auditorium.
James KA Smith, a Professor of Philosophy at Calvin College holds the Gary and Henrietta Kyker Chair in Applied Reformed Theology and Worldview. Trained as a philosopher with a focus on contemporary French thought, Smith has expanded on that scholarly platform to become an engaged public intellectual and cultural critic. An award-winning author and widely-traveled speaker, he has emerged as a thought leader with a unique gift of translation, building bridges between the academy, society, and the church. The author of a number of influential books, Smith also regularly writes for magazines and newspapers such as the Wall Street Journal, the New York Times, Slate, First Things, Christianity Today, Books & Culture, and The Hedgehog Review. He serves as editor-in-chief of Comment magazine.