Join Us As We Revisit Billy Graham's Wheaton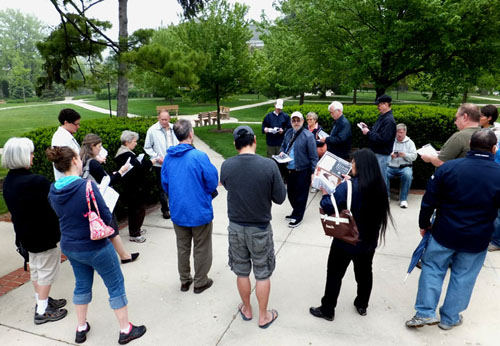 Buswell Library Archives & Special Collections is pleased to offer bi-annual walking tours of Billy Graham's Wheaton. This free tour highlights sites on the Wheaton College campus and greater community where Billy Graham lived, studied, socialized, served, and preached during his undergraduate education at Wheaton College from 1940-1943.
The tour offers a glimpse into Wheaton's wartime campus, where Graham majored in anthropology, served as president of the Christian Council, honed his preaching skills, and met his future wife, Ruth Bell. The walking tour also emphasizes Graham's long association with Wheaton College over his ministry, including the Wheaton-area evangelistic crusade in 1959 and the Wheaton College Billy Graham Center dedicated to evangelism training on Wheaton's campus.
This free tour is usually offered in the spring and fall and covers roughly 1.5 miles in under two hours. Tour dates and times are subject to change due to inclement weather. For more information on possible tour dates or to sign up for the next walking tour, please contact the Archives.
Unable to join in the next walking tour? Download the Walking Tour Guide and take the tour on your own or with a group.