Dr. Aaron Griffith,"American Evangelicals and the Making of Modern Prison Ministry"

What is it like to do historical research in the Archives? How do researchers use scrapbooks, newspaper clippings, oral history interviews, and other materials to construct an historical narrative? What are the benefits of using these physical fragments to understand the past? Every year, the Archival Research Lecture features a scholar whose research in Archives & Special Collections addresses these questions.
Throughout the twentieth century, evangelicals, like Chuck Colson and Bill Glass, founded new prison ministries and developed novel forms of prison outreach. These ministries were wildly successful in transforming the practice of religion in American prisons but faced challenges negotiating the brutal inequalities of the carceral state and complex religious diversity of American prisons. For the 2022 Archival Research Lecture, Aaron Griffith explored this evangelical prison movement and its associated complications, with an eye toward future possibilities for evangelical ministry and advocacy on behalf of incarcerated people.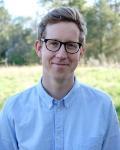 Dr. Aaron Griffith is assistant professor of modern American history at Whitworth University, where he specializes in the history of evangelicalism, African American religions, social activism, and American politics. His book, God's Law and Order: The Politics of Punishment in Evangelical America (Harvard University Press, 2020), was awarded Christianity Today's Best Book Award for History & Biography in 2022.
Listen to the audio recording for Dr. Griffith's lecture.