Dr. David Kirkpatrick, "A Gospel for the Poor: René Padilla and the Reshaping of Global Evangelicalism"

What is it like to do historical research in the Archives? How do researchers use scrapbooks, newspaper clippings, oral history interviews, and other materials to construct an historical narrative? What are the benefits of using these physical fragments to understand the past? Every year, the Archival Research Lecture features a scholar whose research in the BGC Archives addresses these questions.
For the 2021 Archival Research Lecture, Dr. David Kirkpatrick tells the story of how a Cold War generation of Latin American evangelicals, including Wheaton graduate René Padilla, developed, named, and exported their version of social Christianity to an evolving coalition of global evangelicals. These global negotiations reshaped politics, widened theologies, and provoked an explosion of mission and relief organizations such as Compassion International and World Vision.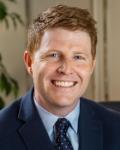 David Kirkpatrick is Assistant Professor of Religion at James Madison University and works in the intersection of religion and politics. His first book, A Gospel for the Poor: Global Social Christianity and the Latin American Evangelical Left drew upon bilingual interviews and archival materials from three continents. Dr. Kirkpatrick is currently working on a new book forthcoming from Oxford University Press that explores the history of religious violence in Latin America.
Listen to the audio recording for Dr. Kirkpatrick's lecture.