Dr. Melani McAlister, "Congo Crisis: U.S. Evangelicals, Congolese Christians, and the Politics of Race and Decolonization, 1960-1964"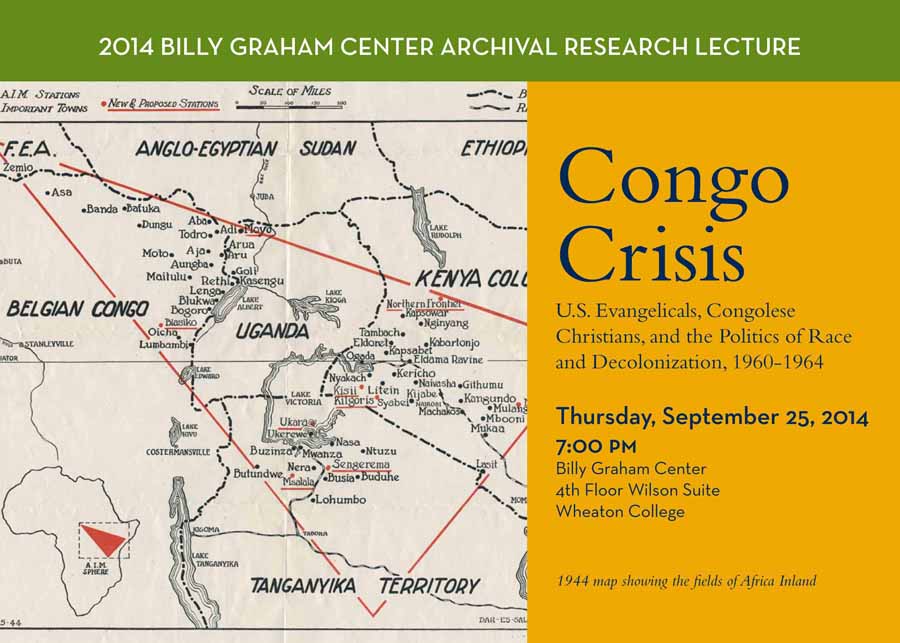 What is it like to do historical research in the Archives? How do researchers use scrapbooks, newspaper clippings, oral history interviews, and other materials to construct an historical narrative? What are the benefits of using these physical fragments to understand the past? Every year, the Archival Research Lecture features a scholar whose research in the BGC Archives addresses these questions.
In the early 1960s, Congo was in crisis. As the newly independent nation's first prime minister was assassinated and violence wracked the country, a white American evangelical missionary was murdered in the streets of the capital city. The story of his death became national news, and U.S. evangelicals, white and black, struggled to understand the politics of race, religion, and revolution that led to his death, and which would soon transform U.S. policy in Africa as well as the global religious landscape of Christianity. Drawing on missionary letters, the Africa Inland Mission records, and other BGC Archives materials, Melani McAlister explores the unexpected intersection between fears of communism and concerns about racism as American missionaries tried to manage their relations with fellow believers in Congo, as well as critics at home.
Listen to the audio recording for Dr. McAlister's lecture (Q&A begins at 1:02:40).