Dr. Tu Yichao, "Panda Huggers and Dragon Killers: Billy Graham, American Evangelicals, and Sino-American Relations"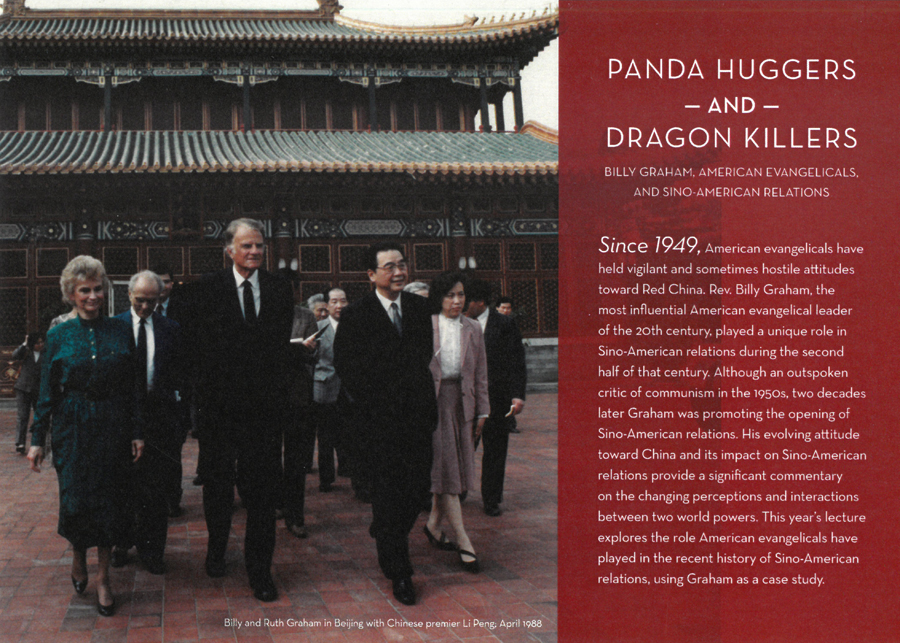 What is it like to do historical research in the Archives? How do researchers use scrapbooks, newspaper clippings, oral history interviews, and other materials to construct an historical narrative? What are the benefits of using these physical fragments to understand the past? Every year, the Archival Research Lecture features a scholar whose research in the Archives addresses these questions.
Since 1949, American evangelicals have held vigilant and sometimes hostile attitudes toward Red China. Rev. Billy Graham, the most influential American evangelical leader of the 20th century, played a unique role in Sino-American relations during the second half of that century. Although an outspoken critic of communism in the 1950s, two decades later Graham was promoting the opening of Sino-American relations. His evolving attitude toward China and its impact on Sino-American relations provide a significant commentary on the changing perceptions and interactions between two world powers. In this lecture, Tu Yichao explores the role American evangelicals have played in the recent history of Sino-American relations, using Graham as a case study.
Read the 2013 Annual Lecture Transcript or listen to the audio recording for this event (Q&A begins at 1:12:10).