Dr. Amy Artman, "Televising Testimony: Kathryn Kuhlman and Your Faith and Mine"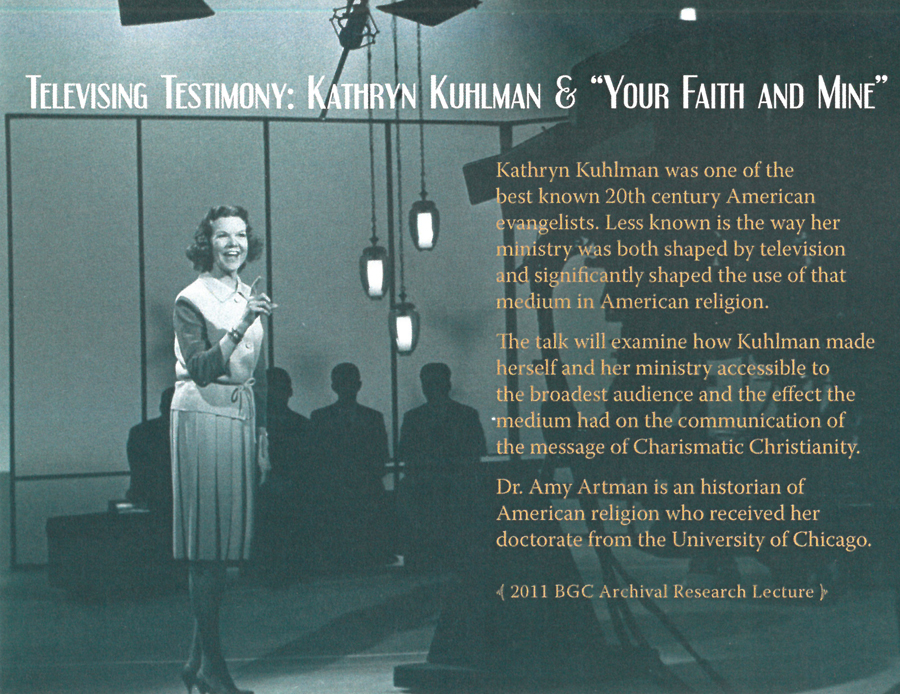 What is it like to do historical research in the Archives? How do researchers use scrapbooks, newspaper clippings, oral history interviews, and other materials to construct an historical narrative? What are the benefits of using these physical fragments to understand the past? Every year, the Archival Research Lecture features a scholar whose research in the BGC Archives addresses these questions.
In this year's lecture, Amy Artman will focus on Kathryn Kuhlman, one of the best known evangelists in the United States during much of her ministry. However, few people know about the early career of this healing charismatic evangelist or how her later style was established in the television studios of the 1950s long before her show I Believe in Miracles went into syndication. Dr. Artman will describe her close study of Kuhlman's first syndicated television show, Your Faith and Mine, and what her research revealed about Kuhlman herself and the style of televised testimony she developed. The talk will also examine questions such as, "How does one televise a miracle?" "How does Kuhlman present herself and the miracles of her ministry in a way that is accessible to the broadest audience?" and "What effect does the use of media have on the communication of charismatic Christianity?"
Read the 2011 Annual Lecture Transcript or listen to the audio recording for this event.