Dr. Joel Carpenter, "Wheaton, Moody, and the China Connection: Finding Our Ancestors in the Archives"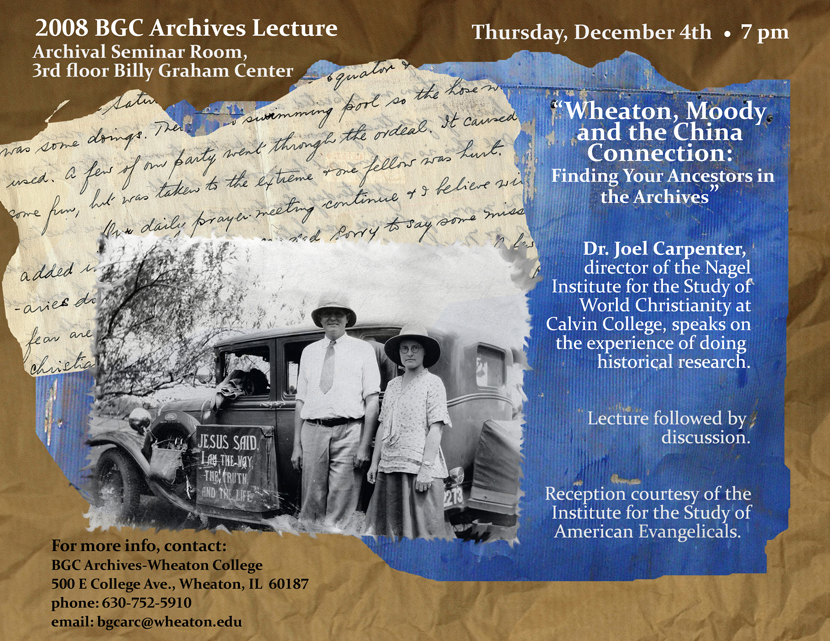 What is it like to do historical research in the Archives? How do researchers use scrapbooks, newspaper clippings, oral history interviews, and other materials to construct an historical narrative? What are the benefits of using these physical fragments to understand the past? Every year, the Archival Research Lecture features a scholar whose research in the BGC Archives addresses these questions.
In this year's lecture, Joel Carpenter will discuss the shaping of American Protestant/Fundamentalist missions in the early part of the 20th century, a story he told in part in the 1990 book, Earthen Vessels: American Evangelicals and Foreign Missions, 1880-1980, which he co-edited. Dr. Carpenter will also describe how his experience using oral history interviews from the BGC Archives shaped his research and his thinking.
Read the 2008 Annual Lecture Transcript for this event. Please note: This lecture was not recorded.