Serving
Alaska, California, Hawaii, Idaho, Iowa, Kansas, Montana, Nebraska, Nevada, New Mexico, North Dakota, Oklahoma, Oregon, South Dakota, Utah, Washington, Wyoming
In Her Own Words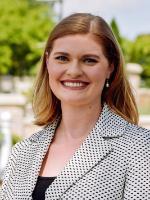 Hello and Welcome! I am so excited that you are interested in Wheaton College. I can't wait to help you explore everything Wheaton has to offer.
I grew up in Connecticut and moved to Batavia, Illinois in 2016. I began my time at Wheaton College in 2018 and graduated in 2022 with a major in Interpersonal Communication and a minor in Bible and Theology. The reason that I decided to attend Wheaton was because of its excellent academic reputation, Christian foundation, and beautiful campus community. As a student, I participated in the Wheaton Record (the school's student-run newspaper,) Zoe's Feet dance ministry, and many on-campus events and activities.
I loved my time as a student at Wheaton for many reasons, but the reason that stuck out to me was its commitment to Christian living. The wonderful relationships I have made with professors, staff, and students are relationships that I cherish and hope to continue developing in the future. Wheaton gave me the once in a lifetime opportunity to deepen my faith through my courses and on-campus living in a Christ-centered environment.
I look forward to connecting with you to hear about your story and about what you are hoping to gain from your college experience.
Contact Anna Rose | Make an online appointment with Anna