Our admissions counselors are equipped to lead you through the admissions process.
Serving
In Her Own Words
Hey there!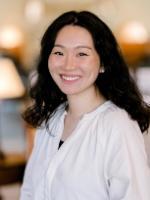 Welcome :) I'm beyond excited that you are exploring Wheaton College as your potential home for the next four years, as it has been such a special and transformative place for me.
I was born and raised in China until I was 15 years old. I first came to the U.S. as an international student for high school in Michigan in 2014 and then graduated from Wheaton College in 2022 with my undergraduate degrees in Economics and Communication.
During my time at Wheaton, I was part of the Media Team, Discipleship Small Groups (DSG), Koinonia (Asian/Asian-American Fellowship), and Diakonoi (Campus Hospitality). By serving in multiple positions across various clubs, I was challenged and mentored by fellow faithful believers to grow into the person that God has called me to be.
Furthermore, as an international alumna, I can truly attest to how amazing and fruitful the community is in supporting students from diverse backgrounds here. Specifically, the ISP (International Student Program) Office and OMD (Office of Multicultural Development) supported me immensely in countless ways through events, mentorships, and fellowship.
All of my experiences at Wheaton have made me into the person I am today, and I would not trade that for anything. It's an absolute honor for me to serve you throughout your admissions process at Wheaton, and I can't wait to hear your stories. Looking forward to connecting with you!
Contact Ada | Make an online appointment with Ada
630.752.5237