From the President

Dear Parents,
Neither rain, nor wind, nor cold could prevent over 1,000 family members from attending the first outdoor Graduate and Undergraduate Commencement ceremonies at Wheaton College since 1957. Some observed that the dramatic weather on May 8 and 9 provided a fitting conclusion to this challenging year. From the platform on McCully Field, I witnessed an inspiring display of our newest graduates on a field of orange and blue.
At Commencement we honored seventeen retiring faculty members with a combined 552 years of teaching, scholarship, and mentoring! The retirees included Dr. Robert Brabenec, a 1960 Wheaton graduate, who served for many decades as Chair of the Math Department. In 1977 Bob founded the Association of Christians in the Mathematical Sciences, which provides spiritual encouragement for Christian math and physics scholars, especially from secular schools. He also served as faculty advisor for the student chapter of International Justice Mission, mentored cross-country and track athletes, and initiated the "Wheaton Cares" group that prays for staff, faculty, and students, and also sends them handwritten notes.
We thank God for the generations of teacher-scholars who invest their entire careers in helping to form a Christian mind and heart in students at Wheaton College. We are all praying for this spiritual formation together.
In Christ's service,


Philip Ryken
President
Congratulations, Class of 2021!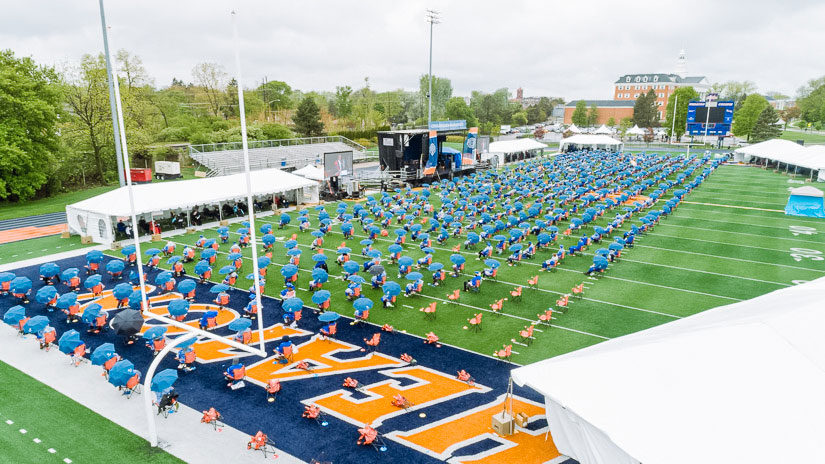 Student and Faculty Honors
While Wheaton did not hold an Honors Convocation Chapel this spring, numerous students and faculty were honored this year with special recognition. These honors and awards recognize the achievements of students who have distinguished themselves academically, honor retiring faculty, and celebrate those who earned promotion or tenure or received faculty awards. Congratulations to all!
Center for Vocation and Career
Summer is all about new experiences! For many students, this means completing an internship or working part-time, and for our recent graduates it's all about their next vocational step.
Developing Skills in the Summer
For many of our returning students, internships have been more difficult to land as many have worked to recover missed opportunities from last summer. To address this challenge, the CVC is offering mySkills, a virtual, 9-week summer skill-building program just for Wheaton students and led by Wheaton alumni. Students will:
Collaborate with a group of peers to develop a new skill through group/independent work;
Meet weekly as a group with their alumni leader;
Use LinkedIn Learning to develop one of the five skills being featured this year

Advanced Data Analytics
Beginning Data Analytics with Excel
Graphic Design with Adobe
Grant Writing and More
Account Management and Business Development

Present their final projects to campus leaders.
This program is free for current undergraduate students, and with just 6-10 hours of work each week, there will be plenty of time to add this to another experience or make this their story for the summer of 2021.
Current students can apply for their top 3 choices of mySkills tracks using this JotForm.
We're Still Here for Your 2021 Graduate
For the parents of our newest Wheaton College graduates, a big "Congratulations!" is in order! What a feat your students overcame this year, and what good stories they will have to tell. Whether or not they are certain about their next steps post-Wheaton, our team is eager to support them in any way we can. In fact, your recent graduates have full access to CVC services for two full years, including coaching appointments and drop-ins, all accessible through their Handshake account! Our services and online resources continue to be free of charge for our alumni, and we find that many alumni return for support of different kinds after their time on campus. If your student is looking for support or is just unsure of where to begin, they can find us on Handshake, or they can send us an email to get started.
Looking for additional ways to support your recent grad? Check out this great article in Newsweek.
Class of 2021: Four Ways to Help COVID-Era Grads Adapt to the Working World

Student Financial Services
Billing and Payment
Please continue to monitor your student's account for copy/print, room check out fines and other miscellaneous fees that may be posted over the next few weeks. Additionally, please make sure that your student has an Electronic Refund account set up in the Student Billing and Payment Gateway under their profile to expedite refunds of credit balances. Continuing students can leave credit balances on their accounts to be applied towards future charges.
Fall 2021 bills will be available online in the Student Billing and Payment Gateway in late July with a due date of August 25, 2021 (first day of classes). Students and their Authorized Users will receive an email when the bill is ready to view or print online. Fall payment plan enrollment will be opened when bills are issued. Wheaton bills by semester so payment plan participants must re-enroll each semester.
Due to increased administrative costs, the per semester payment plan application fee will change from $25 to $40 per semester. Please note that based on our research, this amount is consistent with what other colleges and universities typically charge for administering payment plans. This change will allow Wheaton to continue to offer our families the convenience of a pay-as you-go plan to help budget their student's educational expenses over the semester.
Not receiving monthly e-bill notices? Students need to grant parent access to the Student Billing and Payment Gateway under their profile for Authorized Users. Students log in through their student portal. Once authorized, parents will receive two automated emails with login credentials which will allow access to account activity, on-line payments and payment plans. This also gives our office permission to speak with parents about their student's accounts. It is recommended that parents and students log in to the Billing and Payment Gateway at least once each month when the eBill notices are sent to review their accounts. Authorized Users log in here.
2021/2022 Financial Aid Awards
Continuing student financial aid awarding for 2021/22 will begin after spring term grades have been posted. It is very important for students to check their student portal and complete any outstanding financial aid requirements to avoid delays in receiving awards. All required documents or forms should be scanned and uploaded using our Secure File Transfer. Emailing sensitive information is not recommended for security reasons.
Please encourage your student to monitor their Wheaton email account over the summer! This is our main method of communication regarding any missing or incomplete items that are needed to complete their award. Additionally, an email will be sent to the student once their award is ready to view and accept in their student portal.
Please direct questions to Student Financial Services at sfs@wheaton.edu or 630-752-5700.
Campus Store
Summer textbooks are available through the Campus Store and 2021 Wheaton Passage materials are also now available.
How to Pray for Wheaton This Month
Pray for our Graduating Seniors, Class of 2021, that they will walk faithfully with the Lord all the days of their lives. Pray for God's peace if they are wrestling with the unknowns of what's next. Pray that the Lord will continue to work in, and through, the relationships made at Wheaton, and that friendships will be maintained. Pray that the Lord will continue to use the lessons and experiences from their time at Wheaton to grow each person and draw their hearts closer to Him
Pray for rest and renewal for students, staff, and faculty as they head into the summer. Pray for students who are doing ministry trips, going overseas, working summer jobs, doing summer classes, or just being home. Pray for staff and faculty as they reflect on and wrap up a difficult yet good year. Pray for the incoming students who are making their college decisions and preparing to come to Wheaton in the fall.
With thanks for your involvement and prayers,
The Wheaton College Parent Engagement Team