From the President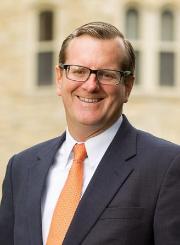 Dear Parents,
Last week we commended our beloved students for their patience and persistence in pivoting to an online Wheaton education after Spring Break. The perseverance of our students and their families inspires us as we press into developing comprehensive plans for Fall semester.
Heading into the summer months, your well-being is on our minds. As the nation slowly reopens, we know that many summer plans have changed due to cancelled internships and the scarcity of summer jobs. This too will need more patience, along with wisdom and good judgment, as we use our time well and look forward to the day when we can be together again.
As you pray for us, please remember our faculty and staff, who on March 11 moved with little notice to teach and work remotely. Meeting that crisis has produced magnificent results, yet even more difficult work is required in the coming weeks to prepare wise plans for the fall. We pray that God will be pleased to bring all of us through this next phase stronger than ever—for his glory and for the good of Wheaton College.
In Christ's service,


Philip Ryken
President
Center for Vocation and Career: Summer Programs
While 20% of hiring happens in the fall, the bulk of hiring, called just-in-time hiring, occurs in the spring and was largely disrupted as Covid-19 turned the job market upside down. In recognition of this reality and the impact on the Class of 2020, the Center for Vocation and Career quickly created an initiative intended to engage these recent graduates and ensure they would be in the very best position to enter the job market once it begins to return. The CVC team reached out to young alumni and 29 volunteers enthusiastically agreed to participate in six different Career Communities which will meet regularly with our recent graduates over the summer to connect participants with other alumni and their peers; help them gain industry insights; and build career momentum. If our initial training was any indication, our recent graduates are going to learn a lot from these incredible Wheaton College alumni! It's not too late for your son or daughter to join via email.
For our returning students, many of whom lost internships that were cancelled, the CVC is creating a skill-building program using LinkedIn Learning and the expertise of several alumni who will help students see how the skill they are developing would be applied in a professional context. Skills will include data analytics, Excel, Adobe Suite, Project Management, Social Media Marketing, Copywriting, and more. Students will engage in career and professional development activities and also complete a large project utilizing their newly-developed skill, under the mentorship of their alumni and one of the CVC professionals. The program launches June 1 and will run until July 30. Students can sign up now. We are committed to every student having a story to tell about how they spent the summer of 2020!
Student Health Services
Student Health Services transitioned to a telehealth model during B quad, providing advice, treatment by clinicians, and referrals when necessary for many Wheaton students. In addition, the Student Wellness Team partnered with Campus.Health to offer a free 24/7 telemedicine option for both medical and mental health-related needs while students were scattered across the globe.
Plans are being made for a coronavirus-safe return in the fall. Until a vaccine for COVID-19 is widely available or a treatment discovered, physical distancing, viral testing, isolation, quarantine, and contract tracing will be the focus of SHS efforts in minimizing the spread of the virus on campus. We remain committed to addressing the varied health needs of students during this unique time.
A Note from Parent Engagement
Wheaton parents are the best! The last couple of months have been challenging and families have had to pivot many times. Parent Engagement would like to thank the parent community for their flexibility, support, and prayers. With God's help, and each other, we made it to the finish line. It was a blessing to watch parents cheer on students who were completing the spring semester in the midst of unprecedented change. Thank you!
A significant place parents connect is in the Wheaton College (IL) Parents 2019-20 Facebook Group. The group has over 1,100 members and is exclusively for current Wheaton parents. Typically, parents of seniors are "graduated" out of the group when their student(s) graduate. Due to the unusual circumstances of spring semester, senior parents are invited to remain in the group until in-person Commencement, which will occur sometime during the 2020-21 academic year. If you're not already a member, please consider joining. We will welcome incoming freshman parents to the group on June 1. Please join us in giving a warm Wheaton welcome to our newest members.
Annual Giving

As current parents, you know more than most, how important it is that we come together in support of our students. On Wednesday, April 29, Annual Giving hosted WheatonGives, the second annual 24-hour giving day for Wheaton College. 1,444 alumni, parents, and friends came together All as One and raised over $520,203 for the Wheaton Fund, including 20% of donations coming from current parents! It was an encouraging time of connection with the global Wheaton community.
Thank you for your continued support at such a critical time. Your gifts to the Wheaton Fund make a direct impact on the excellence and affordability of every student's Wheaton experience. Your prayers and support are vital, now more than ever, as we look to offset the financial impact of COVID-19. Parents can continue their support by giving online to support the Wheaton experience through the Wheaton Fund today.
How can you pray for Wheaton this month?
Praise God for faithfully bringing students, faculty, and staff through to the end of the semester! Give thanks to the Lord for His plan to prosper each of His children and to give them a hope and a future.
Pray that the Lord will give comfort and strength to all seniors who are entering a challenging job market and don't know what is next. Pray the Lord will open doors of opportunity for each one.
Pray that students who had summer internships and jobs cancelled due to the pandemic will overcome discouragement and find meaningful ways to invest their time this summer.
Pray God's wisdom for President Ryken and senior administrators as they continue to lead the College through trying times. Pray they will have clarity regarding decisions for the fall semester.
We are grateful for our parent community and thankful for your involvement and prayers,
The Wheaton College Parent Engagement team