From the President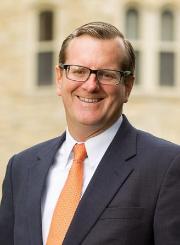 Dear Parents,
As we enter a new year and a new decade at Wheaton College, your student will enjoy visiting the newly renovated Student Services Building located across from Anderson Commons. Originally built in 1952 as a dining hall, the building was refitted in 1988 to house the Bookstore, the Registrar's Office, and other student services.
When classes resume on Monday, returning students as well as 28 new students and transfers will pick up their textbooks and find College gear in the new campus bookstore on the first floor. On January 30 the sparkling new Center for Vocation and Career will open its doors across the hall with enhanced technology in a professional atmosphere where students can dream about and plan for their future callings.
We are grateful for the generous friends who helped make these essential renovations possible, and we value your prayers for your student and for the whole campus as we begin 2020 together.
In Christ's service,
President


Philip Ryken
President
The Major Decision
For many students, the decision of a major is a milestone decision. We will celebrate this important step with the Class of 2022 at the Declaration Dinner on January 23, 2020. Students will join faculty and alumni for a formal dinner where they'll get a chance to learn from those who have gone before them. A keynote speaker, Angela Bae '11, Director of Leadership Formation at Fuller Theological Seminary, will share an inspiring message of grit and determination in the face of multiples challenges. It is a special evening for our sophomore students, and we hope you'll encourage your son or daughter to attend.

The first Internship Expo launches on February 20, 2020. Because all Wheaties should have the opportunity to complete at least one internship, the CVC's created this high–energy event for students to land that coveted summer internship. Every student, no matter what they are studying, will find something of interest, while connecting with 25+ select employers.
Please Pray!
Join current Wheaton parents on February 27, 2020 on the Collegiate Day of Prayer, to pray for Wheaton students and the College. Consider using the Parent Prayer Card to guide your prayers. If you are not a member of the 2019-20 Parent Facebook Group, consider joining because each day during the month of February a different prayer request will be posted prompting members to pray. Thank you in advance for blanketing Wheaton in prayer!
You're invited!
We're hitting the road and heading to Washington D.C. and San Diego to host two special events and we hope you can join us. The College will be hosting Regional Events in Washington D.C. on Saturday, February 22, 2020 and in San Diego on Saturday, February 29, 2020. Come meet fellow parents and alumni, and hear from a leading faculty member. Learn more and register.
The Wheaton College Graduate School
Is your student considering a vocation in TESOL (Teaching English to Speakers of Other Languages) and Intercultural Studies? Here are three reasons why current Wheaton students interested in TESOL should consider the Wheaton College Graduate School:
Students can now choose between residential or flexible learning options for both our 36-credit M.A. in TESOL and Intercultural Studies and 24-credit Graduate Certificate in TESOL.

With flexible learning options, nearly 50% of our current students are based in teaching contexts overseas. Students can take almost all of their credits online and complete just one or two short, on-campus intensives during the summer.
Our will help your student save money and get out on the field faster.

In the accelerated M.A. program, current Wheation students can begin their graduate coursework during their senior year, graduate up to a year earlier, and save as much as $11,000. The other benefits? Skip the GRE, get access to other admission shortcuts, and enjoy one more year in the Wheaton College community.
Our experienced and full-time faculty provide mentorship that continues for a lifetime.

While many TESOL departments at other schools are staffed by part-time or adjunct faculty, our core faculty are full-time professors who have dedicated years to mentoring future TESOL and Intercultural Studies leaders in theory, ministry, and research. Most recently, Dr. Cheri Pierson and alumnus Will Bankston M.A. '13 teamed up to publish a theological ESL series, and professors and alumni were invited to present scholarly papers at the April 2020 International TESOL convention.
Discover TESOL at Wheaton College today!
News from Student Health Services
Welcome incoming spring semester students! The deadline to submit required medical paperwork for new students is Monday, January 20. These entrance requirements ensure that Student Health Services can address specific health needs or concerns for each student as well as protect the community from any communicable diseases as required by the State of Illinois. SHS is now able to accept entrance paperwork through an individual's secure MyChart account. Details about setting up this account and submission of paperwork was sent to each student upon commitment to Wheaton College. For any questions regarding these requirements and/or how to submit them, please call SHS at 630.752.5072.

Any F1 Visa holding student, or other eligible international student, enrolled in LewerMark insurance through Wheaton College who will not be returning for the spring semester must notify Student Health Services as soon as possible to avoid the spring semester charge for coverage.

Influenza cases are starting to increase throughout the United States, but it is not too late to come to Student Health Services for a flu vaccine. The influenza virus often peaks in February. Every year this virus costs some students an entire week out of class, as well as the potential for secondary infections. The cost of the vaccine is $30, billed to the student's account, and walk-ins are encouraged.
How can you pray for Wheaton this month?
Pray for safety in travel for students returning to campus this coming weekend to begin classes on Monday, January 13.
Pray that transfer students and new first year students have a smooth transition as they begin their Wheaton journey this spring semester. Pray they are warmly welcomed and that Wheaton will quickly feel like home and a place of belonging.
Pray that the Wheaton College community will continue to grow in love for one another and humbly submit to one another in love.
Happy New Year!
The Wheaton College Parent Engagement team