From the President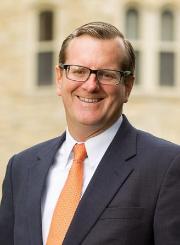 Dear Parents,
We listened carefully to students and alumni about being better prepared for vocational options after college. The result is now apparent in a state-of-the-art center for Vocation and Career (CVC) located in a prime spot on campus. Generous alumni have helped complete funding for the Center's transformation, dedicated this week.
The CVC's dynamic new space has been designed to reflect today's workplace. Students use the common space to talk and work with career coaches and peer advisors, or participate in a virtual job interview in one of the private rooms. We are grateful for the careful planning, excellent craftsmanship, and generous giving that created the new Center—something we hope every student will use.
In Christ's service,


Philip Ryken
President
Center for Vocation and Career
A key step in the career exploration process is knowing who you are before you explore where you are going. To help our first-year students work on developing self-awareness, the Center for Vocation and Career will host What Are Your 5? on Saturday, March 28 from 10-11:30 a.m. Using the CliftonStrengths assessment, students will explore the way God wired them at a fun, interactive, high-energy event! Your student's Resident Assistant will have information on how to sign up.
The Wheaton Fund: Iron Sharpening Iron
Service, mercy, justice, and unity. These are among the character traits for which Wheaton's late Multicultural Development Director Rodney Sisco '84 was known and loved.
On February 5, Dr. Bernice A. King, daughter of Dr. Martin Luther King, Jr. and Coretta Scott King, delivered the keynote address at the inaugural Rodney Sisco Symposium, an annual event dedicated to diversity and equity practices.
Your gifts to the Wheaton Fund help support dedicated, godly faculty members like Rodney Sisco, who poured his energy and passion for racial reconciliation into the Wheaton College community for more than 30 years. Your gifts also help make possible the symposium named in his honor and the privilege of hosting transformative luminaries like Dr. Bernice King on campus.
Save the date for WheatonGives, Wheaton's second-annual giving day, on March 25, 2020. Your gift will directly enhance the educational experience of your son or daughter, supporting faculty mentors, speakers, events, and programming that will help instill in him or her a hunger for service, a desire for mercy, a passion for justice, and a longing for unity.
Wheaton in Chicago
Open to all majors and class years, Wheaton in Chicago provides an opportunity for students to live in Chicago, intern at an organization of their choice, and take evening classes with Wheaton professors or Chicago-based practitioners. Wheaton in Chicago also offers weekly community dinners, on-site counseling, free local gym memberships, a group trip to the Christian Community Development Association conference (fall semester) or Los Angeles (spring semester), regular evening prayer, and more. Encourage your student to apply by Friday, March 6, for spring 2021 (regular action deadline) or fall 2020 (final deadline).
Summer Classes at HoneyRock
Is your student trying to save money, graduate early, or have a one-of-a-kind academic experience? Wheaton in the Northwoods allows students to earn 4-8 credits during a 2 to 4-week term in May or June at HoneyRock. Class offerings include required Bible courses, many double-tagged Christ at the Core (CATC) options, and new Advanced Integrative Seminar (AIS) opportunities for juniors and seniors. Students enjoy smaller class sizes, daily interaction with professors in and out of the class, and focused course content. With summer tuition rates, students save over $1,000 per 4-credit class.
Announcing the New M.A. in Global Leadership
The new M.A. in Global Leadership is a 40-credit, flexible degree program ideal for evangelicals working in all levels of leadership within global organizations. The curriculum provides readily applicable tools to help students cultivate a sense of Christian vocation, holistically develop both themselves and their teams, and cast a dynamic and strategic vision for their organization's future.
If your student is considering graduate school as their next step, encourage them to stop by the Graduate Admissions office to learn more about the M.A. in Global Leadership and our 17 other graduate degrees in TESOL, Teaching, Biblical and Theological Studies; Psychology, Counseling, and Family Therapy; and Mission, Ministry, and Leadership!
Office of Christian Outreach
The OCO has begun preparations with the 2020 Summer Ministry participants and is excited to host faculty and staff across campus for the purpose of training students on topics including: traveling well, evangelism, developing community on teams (just to name a few!). There has been a 40% increase in diverse student representation on this year's summer teams, which is the first in the history of many of the OCO programs. Praise God! To help support some of our students in need of financial encouragement, we are asking if anyone would be willing to give a $1,500 donation to the OCO General Scholarship Fund. The $1,500 scholarship will go to a student in need, and although would not cover the entire cost of their ministry experience, will contribute significantly to helping students participate and travel! If God would put it on your heart to give toward this area of need, please make your donation today.
Collegiate Day of Prayer
Throughout the month of February, leading up to the Collegiate Day of Prayer on February 27, 2020, parents are invited to pray for Wheaton students and the College. How might you pray? The Parent Prayer Card offers some ideas. If you would benefit from a daily prayer prompt, consider joining the 2019-20 Parent Facebook Group, where a different prayer request is posted each day during the month of February. Thank you for interceding on behalf of Wheaton College.
You're Invited!
If you live in the Minneapolis, Portland or Seattle area, Wheaton is coming your way! Come hear from one of Wheaton's outstanding faculty/staff members, and meet fellow parents and alumni at one of our upcoming Regional Events. Learn more and register.
Wheaton in Minneapolis, Saturday, March 14, 2020
Wheaton in Seattle, Friday, March 20, 2020
Wheaton in Portland, Saturday, March 21, 2020
How can you pray for Wheaton this month?
Give thanks for the provision of the new Center for Vocation and Career workspace. Pray that students will find encouragement and inspiration as they explore their giftings and vocational callings.
Pray that when students gather for monthly All School Communion, they come ready to meet and hear from God, and that their spirits will be refreshed having worshipped together.
Pray for those on campus grieving the loss of loved ones. Pray for the Lord to meet them in their days with His comfort, understanding and tender care.
Pray for students as they prepare to travel to various destinations over spring break. Pray especially for students who will be serving on ministry trips, that their faith and learning will grow through the experience of serving others.
With thanks for your involvement and prayers,
The Wheaton College Parent Engagement team