The Center for Vocation and Career team is here to help you through your career and vocational journey.
As Director of the Center for Vocation and Career, Olivia leads the CVC team as they seek to equip all Wheaton College students with tools and opportunities to discover, prepare for, and launch into their next steps to help build the Church and benefit society worldwide. Olivia brings 10+ years of experience working and serving in various leadership roles in non-profit ministry, as well as training in experiential education and early career workforce development.
Olivia began her career at a leadership development program in the Adirondack Mountains in Upstate New York. Olivia's love of the outdoors then brought her to Laramie, Wyoming to work as a wilderness guide and course support manager for a nonprofit ministry. Olivia accumulated more than 80 days in the mountains over three summers as an instructor leading 20-day backpacking & rock climbing expeditions. Olivia then transitioned to serve as the Development Director for a pregnancy resource clinic in Laramie before moving back to the Chicago area in the Spring of 2019. Olivia joined the CVC as the STEM Career Coach in the Fall of 2019, was promoted to Associate Director of Career Education in early 2022, and now serves as the Director of the CVC.
Olivia graduated from Wheaton College with a B.A. in Interpersonal Communication and a minor in Economics. You can contact her at olivia.lorimer@wheaton.edu.
Dave joined the CVC as the Associate Director of Employer Relations in July 2023, aware that what he had learned working in the HealthCare industry would provide valuable insight and guidance for how the CVC might best engage our employers, as well as prepare our students.
Dave spent time working for a pharmaceutical company and an insurance company, both located in Pennsylvania. In both organizations, he led Early Career Programming, helping college students lay an effective foundation for their careers. Prior to that work, Dave contributed to the work of several non-profits, as well as serving for 15 years in various pastoral roles, including international work.
Having grown up in the suburbs of Chicago, Dave is thrilled to be back in the Chicagoland area with his wife and three children. Dave graduated from the Moody Bible institute with a B.A. in Education in Youth Ministry. You can contact him at david.c.brown@wheaton.edu
Michael Bumann joined the CVC in August, 2023 as the Associate Director for Career Education. Before coming to Wheaton, Michael worked as an educator and administrator for ELIC, a global education company. He received a Bachelor of Arts degree from Bethel University (MN), and later a Master of Arts in Asian Studies from the University of Michigan. If you want to talk about the world of work, professionalism, Chinese history & politics, or Michigan football (and really any other topic), then pull him aside, he would love to connect.
Michael has enjoyed onboarding, training, and mentoring new teachers and emerging leaders in his previous work. Here at Wheaton, Michael is eager to connect all students with opportunities and resources that the CVC has to offer and has a particular heart for international students, MK's and TCK's. He has a passion for equipping Wheaton students to do good work and also to prepare them to thrive as Kingdom builders in the workplace.
Michael and his wife Kimmie currently live in Northfield, IL with their 2 daughters. When not on campus you might find him on a walk in the forest preserve, reading a book, cooking, or just hanging out in the back yard with his girls.
Sarah joined the CVC team in September 2020. An English major in college, she knew her degree would "never" lead her to teach… and then promptly changed her mind following graduation, returning for a second Bachelors in Education. Fostering her craft in the classroom, Sarah loved teaching in the public school system but found an even greater draw toward volunteering in student discipleship opportunities. Following her time leading an intentional Christian living community at her alma mater, Colorado State University, she was Director of The Lighthouse, and there developed a Christian leadership curriculum along with her coaching, pastoral, and counseling skills. She transitioned to the role of Director of Student Ministries at Church of the Ascension in Pittsburgh before making her way to the Kurdish region of Iraq to teach English at a K-12 classical school in 2014.
Her 5 years in the Middle East exponentially increased her compassion for the wideness of the world that God loves and equipped her for developing vibrant professional relationships with people from myriad cultures and backgrounds.
At Colorado State University, Sarah earned her B.A. in English/Education and a minor in Philosophy. You can contact her at sarah.laribee@wheaton.edu.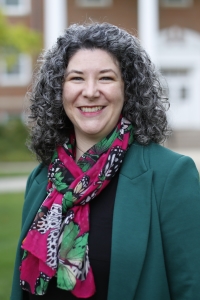 Hannah Wood joined the CVC team as a Career Coach in the Fall of 2022. She began her career in Europe at the International Christian School of Budapest where she taught music and art classes to missionary, international, and Hungarian students. A particular highlight was co-leading a middle school girls' Bible study where she was able to come alongside students and help them grow more deeply in their faith.
Her love of learning, creativity through the arts, and caring deeply about the mental, emotional, and spiritual growth of others led her to return to college for a second degree in music education. During this season she started growing a private music studio, working one-on-one with piano and voice students of all ages to develop their musical expression and skills. Hannah went on to teach at Covenant Classical School in Naperville, Illinois for eight years where she built a thriving music program through curriculum development, performances, and launching a student marimba ensemble.
Continuing the work of investing in students through the office of the CVC, Hannah is grateful for the opportunity to join students on their journey of discovering who God made them to be and how He is drawing them to follow him as they explore vocation and career.
Hannah earned a Bachelor of Music in Vocal Performance from Moody Bible Institute, a Bachelor of Music in Music Education from Northern Illinois University and completed Year 1 & 2 of the Spiritual Formation Cohort offered through Moody Bible Institute. You can contact her at hannah.wood@wheaton.edu.
Kathy Nguyen joined the CVC team in the Summer 2023. She began her career in Des Moines, IA as an Administrative Assistant in the financial sector. Kathy had the opportunity to use her skills in problem-solving, attention to detail, and customer service. She grew up in the Vietnamese Alliance Church in Iowa, and as an adult has taken on many roles there including student leadership and membership on the church board. In her spiritual walk, Kathy is learning to be patient, humble, and willing to help others. She knows that God has done amazing things in her life, including leading her to Wheaton to start a new family, a new career, and a new local church.
Since arriving at Wheaton College as the Office Coordinator, Kathy strives to serve the students effectively, providing guidance to the best of her abilities. In this position, she hopes to continue to foster relationships with her colleagues, staff, and students that she encounters at the CVC and throughout Wheaton College.
Kathy earned her B.B.A. in Human Resources Management at the University of Iowa. You can contact her at kathy.nguyen@wheaton.edu.