These are some books by Dr. Mark Yarhouse that are particularly relevant to sexual or gender identity.
---
When Children Come Out: A Guide for Christian Parents
By Mark Yarhouse and Olya Zaporozhets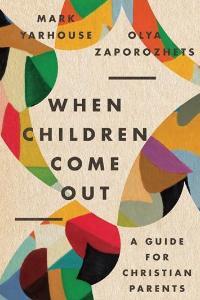 When a child comes out as LGBTQ+, Christian parents often find themselves navigating unfamiliar, unsettling terrain. Mark Yarhouse and Olya Zaporozhets, therapists and researchers with decades of experience, have written this book to provide perspective, insight, and the chance to learn from others who've shared a similar journey. Using data from studies of Christian parents of LGBTQ+ children, they deliver research-based insights and faithful wisdom that is accessible for parents, their friends, and church leaders.
Identifying common patterns while acknowledging the uniqueness of each family, here is a book to guide parents in processing their own experiences, beliefs, and relationship with God. They will also discover techniques to reduce fear-based parenting choices and to express love, as the parent-child relationship continues to change and grow over time.
Filled with stories, hard-won advice from Christian parents, and questions for reflection, When Children Come Out is an essential and hopeful resource.
View When Children Come Out: A Guide for Christian Parents on Amazon.com
---
Gender Identity & Faith: Clinical Postures, Tools, and Case Studies for Client-Centered Care
By Mark A. Yarhouse and Julia A. Sadusky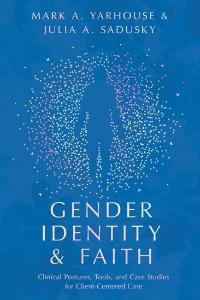 Helping people navigate gender identity questions today is complex and often polarized work. For clients and families who are also informed by their faith, some mental health approaches raise more questions than answers. Clinicians need a client-centered, open-ended approach that makes room for gender exploration while respecting religious identity.
Gender Identity and Faith carves out clinical space for mental health professionals to help people who wish to take seriously their gender identity, their religious identity, and the relationship between the two. Drawing from their extensive research and experience with clients, Mark Yarhouse and Julia Sadusky provide a timely, practical resource for practitioners.
---
Emerging Gender Identities: Understanding the Diverse Experiences of Today's Youth
By Mark Yarhouse and Julia Sadusky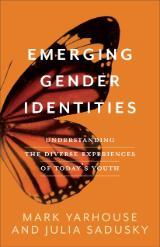 This book offers a measured Christian response to the diverse gender identities that are being embraced by an increasing number of adolescents. Mark Yarhouse and Julia Sadusky offer an honest, scientifically informed, compassionate, and nuanced treatment for all readers who care about or work with gender-diverse youth: pastors, church leaders, parents, family members, youth workers, and counselors.
Yarhouse and Sadusky help readers distinguish between current mental health concerns, such as gender dysphoria, and the emerging gender identities that some young people turn to for a sense of identity and community. Based on the authors' significant clinical and ministry experience, this book casts a vision for practically engaging and ministering to teens navigating diverse gender-identity concerns. It also equips readers to critically engage gender theory based on a Christian view of sex and gender.
View Emerging Gender Identities: Understanding the Diverse Experiences of Today's Youth on Amazon.com
---
Sexual Identity and Faith: Helping Clients Find Congruence (Spirituality and Mental Health)
by Mark A. Yarhouse
Christians who struggle with a conflict between their sexual and religious identities have few therapeutic options available to them. 'Sexual orientation change efforts' (SOCE) have rightly fallen out of favor and are no longer practiced by most clinicians. At the same time, the common approach of gay affirmative therapy (GAT) can at times present challenges and may not be a good fit when clients hold to conventional religious beliefs and values.
An alternative to these methods is Sexual Identity Therapy (SIT)—an approach that aims to provide individuals with a safe therapeutic space to explore the tension between their sexuality and their faith. Working within the SIT framework, clients are able to resolve their inner conflict to their personal satisfaction and to freely choose a coherent identity that enables them to move forward in life.
SIT has several stages, each designed to enable the client to make meaning out of his or her same-sex sexuality. At no point in the process is the client encouraged to choose one sexual identity over another. The ultimate goal of SIT is congruence. Congruence is achieved when a person freely adopts an identity and lives it out in ways that are in keeping with his or her beliefs and values.
---
Understanding Gender Dysphoria: Navigating Transgender Issues in a Changing Culture
by Mark A. Yarhouse
*Foreword Reviews' 18th Annual INDIEFAB Honorable Mention for Psychology
Few topics are more contested today than gender identity. In the fog of the culture war, complex issues like gender dysphoria are reduced to slogans and sound bites. And while the war rages over language, institutions and political allegiances, transgender individuals are the ones who end up being the casualties. Mark Yarhouse, an expert in sexual identity and therapy, challenges the church to rise above the political hostilities and listen to people's stories. In Understanding Gender Dysphoria, Yarhouse offers a Christian perspective on transgender issues that eschews simplistic answers and appreciates the psychological and theological complexity. The result is a book that engages the latest research while remaining pastorally sensitive to the experiences of each person. In the midst of a tense political climate, Yarhouse calls Christians to come alongside those on the margins and stand with them as they resolve their questions and concerns about gender identity. Understanding Gender Dysphoria is the book we need to navigate these stormy cultural waters.
---
Understanding Sexual Identity: A Resource for Youth Ministry
by Mark A. Yarhouse
Today's youth struggle with difficult questions of sexual identity. How can a youth worker offer wise care and counsel on such a controversial and confusing subject? Mark Yarhouse, director of the Institute for the Study of Sexual Identity, equips youth ministers so they can faithfully navigate the topic of sexual identity in a way that is honest, compassionate, and accessible. Reframing the focus away from the culture wars, Yarhouse introduces readers to the developmental considerations in the formation of sexual identity―all of which occurs in the teen years. He offers practical and helpful ways to think about homosexuality along with suggestions for talking with people who experience same-sex attraction. He also helps parents and youth volunteers learn to graciously respond to children and teens who struggle with questions of sexual identity, and discusses how youth ministry can become more relevant in the lives of youth who are navigating these issues.
---
Homosexuality and the Christian: A Guide for Parents, Pastors, and Friends
by Mark A. Yarhouse
Honest, accurate answers to questions about homosexuality from the leading Christian expert on the topic. Also explains current research and whether homosexuality can be overcome.
---
Costly Obedience: What We Can Learn from the Celibate Gay Christian Community
By Mark Yarhouse & Olya Zaporozhets
Though we often hear about the "gay problem" today, there is an even deeper problem in the church today--one that we often overlook. The call to follow Christ is a call to costly obedience for all, not just for gay Christians. Far too often, the church has elevated homosexuality above other sins and required a costly obedience from gays that it is unwilling to demand of others. And yet, the answer is not to weaken the demands of obedience. Instead, gay Christians who make the difficult choice to align their lives with the biblical view of sexuality are a gift to the church, reminding all of us that spiritual growth and maturity is costly. There is a price to pay in following Christ and devoting our lives to the call of the gospel, and it is one that we all must pay--gay and straight Christians alike.
Through the stories and struggles of gay Christians who are reorienting their lives around the costly obedience required to follow Christ, Mark Yarhouse and Olya Zaporozhets call the church to reorient as well, leaving behind the casual morality that is widespread today to pursue the path of radical discipleship. Unlike any other book on homosexuality and the church, this is a call to examine your life and consider what God is asking you to lay down to take up your cross and follow him.