PERFECTION lecture by Margot Starbuck, Monday, September 19, 7:00 PM, Armerding Lecture Hall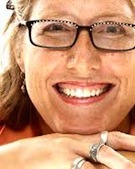 A graduate of Westmont College and Princeton Seminary, Margot is passionate about communicating to individuals, in print and in speech, the promise that God, in Jesus Christ, is with them and for them.
She is the author of The Girl in the Orange Dress: Searching For a Father Who Does Not Fail, Unsqueezed: Springing Free From Skinny Jeans, Nose Jobs, Highlights & Stilettos and the forthcoming Small Things With Great Love: Adventures in Loving Your Neighbor. (2012) Margot's first book, The Girl in the Orange Dresswas awarded the Advanced Writers and Speakers Association's best nonfiction book of the year for 2011. Margot is represented by WordServe Literary and is a member of Redbud Writer's Guild.
Margot blogs for Her.meneutics, Red Letter Christians, Gifted for Leadership, FullFill, and True Campaign. She also writes forRelevant, Neue, Kyria, Mutuality, Thriving Family, MomSense, Adoption Today as well as other print and online publications. She is the confessions editor for Geez Magazine's Sinner's Corner.
Margot enjoys connecting with audiences on campuses and at conferences, retreats and festivals. Clients include Wheaton College, Friends University, MOPs International, Young Life Women's Weekend, Urban Promise Ministry Summit, Lifest and the Wild Goose Festival. Margot can also be heard online as one of the key voices on the weekly True Sisterhood podcast.
At home in Durham, North Carolina—with her husband and three children, by birth and adoption—Margot serves as a volunteer hanging out with teens and adults who live with disabilities through Reality Ministries. She's also pretty tickled to partner as a speaker advocate with Compassion International.