The Bodied Word: Theology, Discipleship and the Problem of the Visible Body - 7 p.m. Tuesday, February 7, Blanchard 339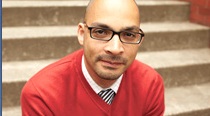 Brian Bantum, Assistant Professor of Theology at Seattle Pacific
Education: B.A., Houghton College, 1999; M.T.S., Duke University, 2002; Ph.D., Duke University, 2009. At SPU since 2009.

Brian Bantum comes to Seattle Pacific after spending 10 years in Durham, N.C., with his wife, Gail, and three children. Dr. Bantum received his Ph.D. in theology from Duke University and a master's of theological studies from the Divinity School at Duke University.
Dr. Bantum's teaching and research focuses on the intersection of theology and identity exploring how the foundational claims of the Christian church serve to illumine the challenges and possibilities of discipleship in the modern world. His dissertation, Mulatto Theology: Race, Discipleship, and Interracial Existence, narrated the challenge of discipleship in a modern world fundamentally formed by race, and radically re-imagines Christian discipleship through Christ's body as both human and divine, a union of flesh and divinity that remakes the lives of all who believe fundamentally "mixed."
While at SPU, Dr. Bantum teaches courses in theology and University Foundations courses in Christian doctrine and Christian formation.

Selected Publications
"Black Theology or Black Religion? Discipleship as a Theological Method" in Black Theology: An International Journal, Vol. 8, No. 2, 2010.
Redeeming Mulatto: A Theology of Race and Christian Hybridity. Waco: Baylor University Press, 2010.
"Why Christians Can't be Post-Racial: Christian Existence in the Murky Waters of Race and Place" in The Other Journal" 16, August 17, 2009.
Please view Dr. Bantum's C.V. (PDF) for additional publications.