Promises and Perils of Stem Cell Research: Human Ingenuity vs. Human Dignity?
April 3 & 4, 2006
Co-Sponsored by The Center for Applied Christian Ethics and the Biology Department
The Wheaton College Science Symposium will focus on the biology and ethics of stem cell research. On the evening of April 3rd, Dr. Peter Andrews, Professor of Biomedical Sciences and Co-Director of the Centre for Stem Cell Biology in Sheffield, England, will address the technical aspects of stem cell research. He will address the question of "What can be done with stem cells?" On the afternoon of April 4th, Dr. John Kilner of the Center for Bioethics and Human Dignity will consider the biblical basis for the bioethical principles on which we should base our decisions about "What should be done with stem cells?" That evening, Dr. William Hurlbut from Stanford University and a member of the President's Council on Bioethics will discuss issues regarding the applications of stem cell technology. This will be followed by a panel discussion including the symposium speakers and members of the Wheaton College faculty.

Peter Andrews, Ph.D. (mp3 audio)
After graduating in Biochemistry from the University of Leeds in 1971, Peter Andrews obtained a Ph.D. in Genetics in the University of Oxford in 1975. Following periods as a post-doctoral fellow in the Institut Pasteur in Paris and Sloan Kettering Institute in New York he moved to the Wistar Institute in Philadelphia in 1978, where he remained until returning to the UK, to the Arthur Jackson Chair of Biomedical Science in the University of Sheffield in 1992. He was Chairman of the Department of Biomedical Science from 1995 to 2003; he is currently Co-Director of the Centre for Stem Cell Biology in the University of Sheffield.
In the Wistar Institute Dr Andrews pursued studies of embryonal carcinoma (EC) cells from human teratocarcinomas. Teratocarcinomas are a subset of germ cell tumors, which occur predominantly as testicular cancer, and are the most common cancer of young men. Teratocarcinomas typically contain a wide, haphazard array of differentiated tissues and appear to develop by a disorganized version of the processes that guide embryonic development. EC cells are effectively the malignant equivalent of embryonic stem (ES) cells and closely resemble the pluripotent cells of the very early embryo.
The studies of human EC cell lines provided early insights into the properties of human ES cells, before these eventually became available following the work of Jamie Thomson. Those studies, for example, revealed substantial differences between EC and ES cells of humans and the laboratory mouse. EC and ES cells share expression of a range of molecular markers and several antigens initially defined by work with human EC cells are now widely used to define and characterize human ES cells. Human EC cell lines capable of differentiation in culture also provided early tools for investigating cell differentiation in a way pertinent to human development, as well as cancer.
In recent years in the University of Sheffield, Dr Andrews has extended his studies of human EC cells to the study of human ES cells, with a focus on understanding the mechanisms that control, on the one hand, their 'self-renewal' – i.e. the ability of stem cells to replicate while remaining undifferentiated but retaining the capacity for differentiation – and their capacity to undergo differentiation on the other. He continues to retain an interest in the relation between these stem cells and cancer stem cells, and the concept that cancers arise because is dysfunctional regulation of self renewal and differentiation by stem cell populations.

William Hurlbut, M.D. (mp3 audio)
William B. Hurlbut, M.D. is a physician and Consulting Professor in the Program in Human Biology at Stanford University. Born in St. Helena California, he grew up in Bronxville, New York. After receiving his undergraduate and medical training at Stanford University, he completed postdoctoral studies in theology and medical ethics, studying with Robert Hamerton-Kelly, the Dean of the Chapel at Stanford, and subsequently with the Rev. Louis Bouyer of the Institut Catholique de Paris. In addition to teaching at Stanford, he currently serves on the President¹s Council on Bioethics.
His primary areas of interest involve the ethical issues associated with advancing biomedical technology, the biological basis of moral awareness, and studies in the integration of theology and philosophy of biology. His courses in biomedical ethics in the Program in Human Biology include: Biology, Technology and Human Life, and Ethical Issues in the Neurosciences . He has also taught a course on genetics and human origins with Dr. Luca Cavalli-Sforza, Director of the Human Genome Diversity Project and a course on epidemics, evolution and ethics with Dr. Baruch Blumberg who received the Nobel Prize for discovery of the Hepatitis B Virus. Since 1998 he has been a member of the Chemical and Biological Warfare working group at the Center for International Security and Cooperation working on a project formulating policy on Chemical and Biological Warfare and has worked with NASA on projects in Astrobiology.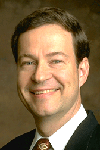 John F. Kilner, Ph.D. (mp3 audio)
John F. Kilner, Ph.D. is the Franklin Forman Chair of Ethics, Professor of Bioethics and Contemporary Culture, and the Director of the Bioethics Program at Trinity International University in Deerfield, Illinois. From the 1994 founding of The Center for Bioethics and Human Dignity in Bannockburn, Illinois until 2005, Dr. Kilner served as the Center's President and C.E.O. He continues to hold the position of Senior Scholar.
Author of numerous articles in medical, public health, legal, religious, and ethics journals, he has written or edited 15 books. His interests have been shaped significantly by extended periods of study and research in inner-city Boston, Kenya, and Switzerland. A frequent speaker and seminar leader, he most commonly addresses issues related to health care reform and resource allocation, age-based and other forms of rationing, treatment termination, physician-assisted suicide, euthanasia, human cloning, assisted reproduction, genetic intervention, stem cell research, ethical methodology, cultural values, and social change.
Before joining The Center for Bioethics and Human Dignity, Dr. Kilner was Senior Associate at The Park Ridge Center for the Study of Health, Faith, and Ethics, and an adjunct faculty member at Northwestern University Medical School, both in Chicago. Prior to his move to the Chicago area, he was an associate professor of social and medical ethics at Asbury Theological Seminary, directed the ethics grand rounds program at the University of Kentucky Medical Center, taught medical ethics as an adjunct professor at the University of Kentucky, and served as hospital ethicist for St. Joseph Hospital, Lexington, KY.
After completing a B.A. degree ( summa cum laude, Phi Beta Kappa ) at Yale University, he earned an M.Div. degree ( summa cum laude, valedictorian) from Gordon-Conwell Theological Seminary. He also holds an A.M. and a Ph.D. "With Distinction" in religious ethics, with an emphasis in bioethics, from Harvard University. While there, he received the Newcombe, Danforth, Eisenhower, DeKarman, Roothbert, Merit, Howe, and Sheldon awards.
Schedule
Monday, April 3, 2006
10:30 am Dr. William Hurlbut - Chapel Speaker, Edman Chapel
4:00 pm Movie - "Developmental Biology and Stem Cells - Armerding Lecture Hall
7:00 pm Dr. Peter Andrews - Coray Auditorium
Tuesday, April 4, 2006
4:00 pm Dr. John Kilner - Coray Auditorium
5:30 pm Dinner - $8.75 (Bring tray to North Party Room) - Anderson Commons
7:00 pm Dr. William Hurlbut - Coray Auditorium
8:15 pm Panel Discussion Guest Speakers and Wheaton College Biology Faculty - Coray
For more information contact
Dr. Roger Kennett 630.752.5317
Stroschein Chair and Chair of the Biology Department
Wheaton College, Wheaton, IL
Promoting and encouraging the formation of moral character and the application of biblical ethics to contemporary moral decisions