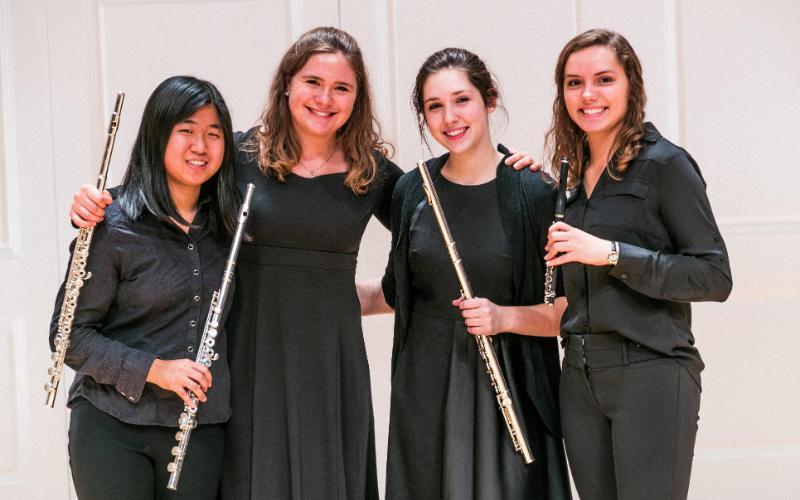 The Wheaton College Conservatory of Music's Woodwinds area comprises faculty experts in saxophone, clarinet, bassoon, flute, and oboe. Between chamber group and ensemble performances, students pursuing woodwind studies have many opportunities to hone their skills and express their creativity.
The Woodwinds area of the Conservatory is led by Jonathan Saylor, Ph.D. Professor of Music (Music History, Bassoon), Chair of Wind Area. Many students from across the College participate in the woodwinds area, there are performance majors, students with minors in music, and many students who major outside of music but still love to play in the Symphonic Band, Symphony Orchestra, or Jazz Ensemble. There are many practice and performance spaces suited for woodwind musicians, as well as a reed room for instrument maintenance and repair.
Building on a long tradition of artistic and academic excellence, the woodwinds area of the Wheaton College Conservatory of Music provides comprehensive, personal instruction leading to degrees in performance, pedagogy, music with elective studies emphases, music education, music composition, composition, and the liberal arts. Our team of highly credentialled faculty are outstanding performers who are committed to teaching and mentorship and contribute to Wheaton's distinctively Christian scholarly community. It is our goal to nurture young musicians with a broad understanding of their art, who can use their gifts creatively and effectively in tomorrow's world.
Take a Lesson With a Wheaton Professor
Are you interested in exploring the Conservatory of Music further and getting to know a professor one-on-one? Prospective high school students are invited to request a trial lesson to try out the Wheaton studio experience.
Request a Free Trial Lesson