Preparatory (traditional) Instruction is offered in piano, violin, cello and guitar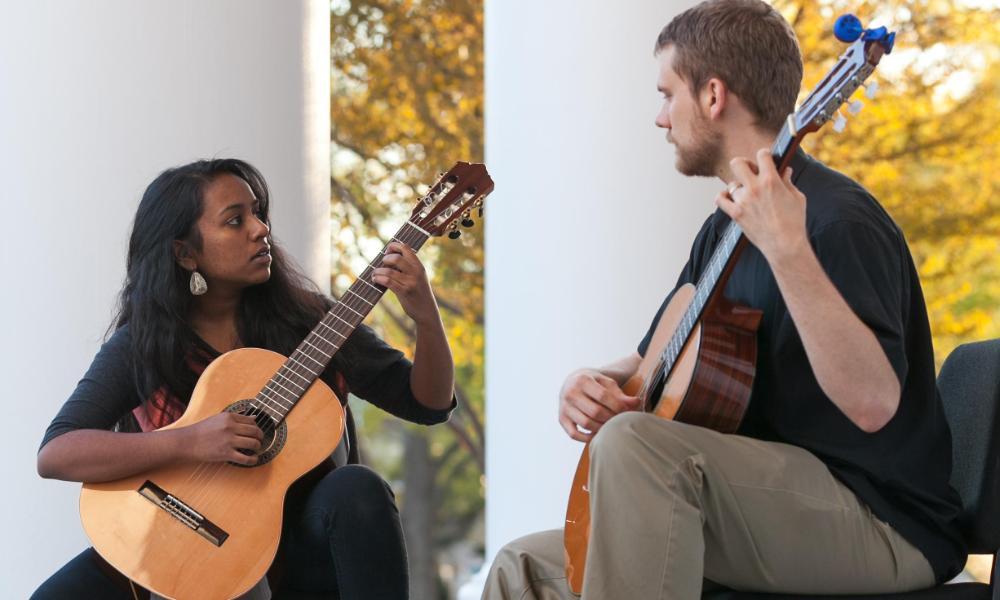 CSA's Prep program provides music lessons with a traditional approach to over 150 students. Our faculty members hold advanced degrees, have extensive experience working with students of all levels and employ a variety of methods to meet individual needs and goals. CSA's nurturing and creative environment builds character and equips students to become excellent artists.
Private Lessons
Our Approach
Instruments offered: piano, violin, cello and guitar.
Students may begin at age 6, through adult.
Early emphasis is on note-reading, excellent technique and self-expression.
Parent involvement is encouraged for young students, but not required.
Tuition includes a weekly private lesson along with a group class required for students through grade 8. The class inspires motivation through peer interaction and strengthens musicianship through theory, ear-training, performance, music history and sight-reading.
Students participate in all-program concerts and recitals held in Conservatory performance venues.
Tuition
Private lessons + group class
30 min/15 weeks | $670*
45 min/15 weeks | $943*
*A $40/semester Events Fee applies to all private lesson students to cover administrative and production costs of concerts, festivals and studio recitals.
Steps to Enroll
After submitting registration materials, you will be contacted for placement.
Register
Complete the registration form (pdf) and submit with $35 registration fee to the CSA office.
Prepare to purchase/rent an instrument
For piano students, a non-electric piano is required. String and harp students must be measured by their teacher prior to purchasing/renting an instrument.
Preparatory Class Instruction
Music Makers: At the Keyboard (Musikgarten)
This curriculum is a perfect beginning for private study ON ANY INSTRUMENT. Music Makers emphasizes making music independently and with others. The approach to reading music is both aural and visual. Activities include dancing, drumming and composing which nurture tonal, oral and rhythmic development. A 66-key, weighted keyboard or acoustic piano is required for home practice. Parent attends last 15 minutes.
Keyboard Level 1
$295/15 weeks | Required materials fee $61
MON 4–5 pm | Pierce 101 | Wilder
TUE 5–6 pm | Pierce 108 | Storm
SAT 10:30–11:30 am | Pierce 101 | Wilder
Keyboard Level 2 prerequisite Level 1
$295/15 weeks | Required materials fee $54
WED 4–5:15 pm | Pierce 101 | Wilder
WED 5:15–6:30 | Pierce 101 | Wilder
SAT 9:15–10:30 am | Pierce 101 | Wilder
Keyboard Level 3 prerequisite Levels 1 and 2
$295/15 weeks | Required materials fee $54
MON 5:05–6:20 pm | Pierce 101 | Wilder
SAT 8–9:15 am | Pierce 101 | Wilder
Preparatory Program Events
Scholarship Competition
First and second place winners from Jr division (gr 6-8) and Sr division (gr 9-12) perform in a concert and receive a prize in the form of CSA tuition credit.
Auditions
Sunday, February 11, 2018 | 1 pm
Pierce Chapel, Wheaton College
Prep Jazz-Pop Festival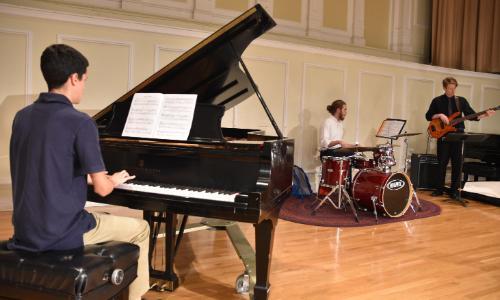 The Jazz-Pop Festival offers Prep piano students the opportunity to perform in a jazz trio accompanied by Wheaton College students. This event highlights blues, jazz, pop, rock, contemporary Christian music and more.
Sunday, October 22, 2017
3 pm & 5 pm
McAlister 136 & 224