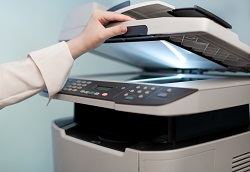 To request physical copies or digital scans made by Wade staff, print and complete the form below and send to the Wade Center by email or mail:
For on-site free digital reproduction of materials at the Wade Center, see:
All orders must be approved by Wade Center archival staff, with the request form completed and signed, before they are processed.
Wade Center staff will make photocopies and scans, and reserve the right to process orders in a timely manner as time and staffing ability allow. There are no self-service copiers.
Only material that will not be physically damaged by the process may be reproduced.
Restricted material may not be reproduced.
Copies must not be duplicated, distributed, made available to any other person or institution, or deposited in another library or archive without written permission from the Wade Center. Copies must be returned or destroyed once they are no longer needed.
Copies are provided for research and study use of the requestor only.
The Marion E. Wade Center reserves the right to withhold permission for the reproduction of any material in its possession, and may refuse to accept a copy order if, in its judgment, fulfillment of the order would violate copyright law. (see copyright law statement below)
Manuscript material may not be reproduced without written permission from the copyright holder. A copy of the letter of permission must be deposited at the Wade Center (by email or mail) prior to our release of copies.
Copy requests for manuscripts, and/or other original materials, are restricted to 20% of the manuscript, volume, or annotated pages therein and limited to no more than 100 pages total for the total copy request.
Reproductions of letter, manuscript, and other original material are provided as physical copies rather than digital scans, and are subject to postage fees and a $10 processing fee in addition to per-page copy charges.
Contact the Wade Center prior to publication of original materials from our collections. The Wade Center's charge for reproduction does not imply an authorization to publish or reproduce material. It is the responsibility of the person requesting reproductions to obtain further use rights from the copyright holder, e.g. permission to quote or publish. In addition, approved publication of all manuscript material must include proper citation of the Wade Center as owner of this material.
Request limit of 100 pages
$0.60 per page
$0.75 per page for PDF scans and JPEGs
Wheaton College (Faculty, Staff, Students): $0.25 per page for the first 50 pages; $0.60 for pages 50-100.
The above listing does not include shipping and processing fees. Ask archival staff for additional details.
Note that materials in unpublished formats (letters, manuscripts, archival collections, etc.) may only be provided as physical photocopies, and additional policies and permissions may apply.
The copyright law of the United States (Title 17, United States Code) governs the making of photocopies or other reproductions of copyrighted material.
Under certain conditions specified in the law, libraries and archives are authorized to furnish a photocopy or other reproductions. One of these specified conditions is that the photocopy or reproduction is not to be "used for any purpose other than private study, scholarship, or research." If a user makes a request for, or later uses, a photocopy or reproduction for purposes in excess of "fair use," that user may be liable for copyright infringement.
Citation Guide for assistance with citation formatting for Wade Center materials
If a published article or book results from the use of the materials at the Wade Center, a copy of the publication shall be deposited in the Wade's collections.