Letter Collection Listings
The Wade Center's letter collections include handwritten or typed original correspondence by, to, or about the seven Wade authors, and their families and friends. To search across all the listings, use the library catalog. Please reference the letter collection title, author, recipient, folder number (where applicable), and letter date(s) when contacting archival staff with questions about these collections. Requests to view original letters should be submitted 24-hours in advance.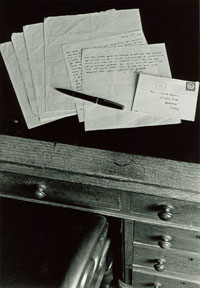 The G.K. Chesterton Family Correspondence Collection
The C.S. Lewis Letters Collection
The George MacDonald Family Papers
Commonly used Terms and Abbreviations in the Letter Collection Listings
Terms

recto = front side of lf.
verso = back side of lf.
revisions = any corrections, alterations, additions, or deletions


Abbreviations

p. = page
pp. = pages
lf. = leaf
lvs. = leaves
ALs. = handwritten letter, signed (ACs. = handwritten card, signed)
TLs. = typed letter, signed (TCs. = typed card, signed)
pc. = photocopy (e.g. pc. TMs. or pc. AMs.)
cc. = carbon copy (e.g. cc. TMs. or cc. AMs.)
mf. = microfilm
ps. = photostat (e.g. ps. TMs. or ps. AMs.) Definition: A form of duplication that makes quick positive or negative copies directly on the surface of prepared paper.
The following abbreviations may also appear in some letter collections to designate which repository owns the original letter.
W = Original is held at The Marion E. Wade Center
B = Original is held at the Bodleian Library, Oxford
X = Original is held by another institution or a private individual
t = The Wade Center owns a transcription of the original
Search Wade Collections
Search the Wade Center holdings and collection listings. More items are added on a regular basis.