Director Thomas Boehm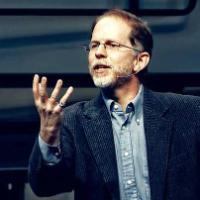 Dr. Thomas Boehm's work is situated at the intersection of faith and disability. In the summer of 2019, he helped launch and now leads the new Center for Faith and Disability at Wheaton College.
Dr. Boehm's interest in disability began as an early career professional working in the social services sector, but was catapulted in new directions when he became the parent of a child with a disability. He went on to teach special education for students with significant support needs and in 2009 founded Faith for All, a non-profit dedicated to promoting and supporting inclusive faith communities. He was then invited to go to Vanderbilt University to help develop a line of research at the intersection of disability and faith while earning his doctorate in Special Education. His dissertation research involved gathering perspectives from almost 900 U.S. families with a son or daughter with intellectual disability in order to understand and improve family quality of life.
Dr. Boehm enjoys cultivating what he calls "Relational depth for Kingdom breadth," which involves pressing into deeper relationships of transparency and authenticity to love God and others well for the sake of spreading the Kingdom of God here on Earth. He does this first and foremost with his wife and five children, and together they are committed to building inclusive community whereby people at the margins of society are embraced with God's extravagant and compelling love.
Sandy Hay
Sandy joins Wheaton Center for Faith and Disability as Coordinator of Church Engagement with over 30 years of friendship and advocacy work for the vulnerable – in utero and those often living on the margins with varying disabilities, seen and unseen. Sandy has a deep theology in suffering and disability, and the sanctity of human life. Her background lends itself to support congregations in disability awareness, belonging and practice just as Christ modeled and taught to make His House full (Luke 14).
Before coming to Wheaton College, Sandy served in management with Joni and Friends. Along with her fundraising responsibilities, Sandy oversaw the ministries of church education and trainings domestically and in Ethiopia, family retreats for families affected by disability, and an evangelism wheelchair distribution ministry in Argentina.
Sandy enjoys her family, her church family and simply being a friend to many. She acts as a certified Christian leadership coach and mentor. Sandy loves theater, a good book, history and missions.
Education: Trinity International University, B.A., Interpersonal and Group Communications; Psychology